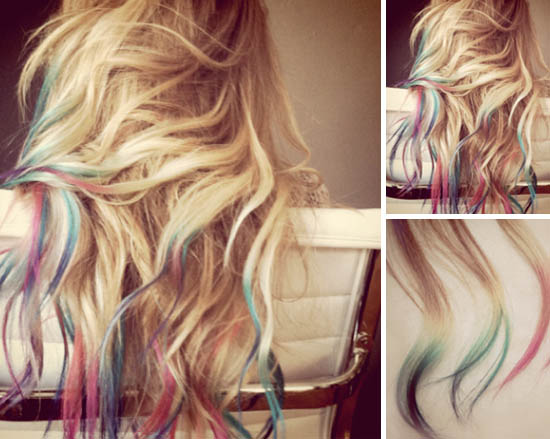 Lauren's rainbow-hued tie-dyed ends
Dip dyed and ombre hairstyles have been doing the rounds for a while now, but Lauren Conrad recently showcased a different take on the end-focused dye job. The former star of The Hills debuted a veritable rainbow of two-tone tips over the Fourth of July weekend, after a majority of readers polled on her blog told her to go for it.
It reminds me a bit of Nicki Minaj and a bit of being bored in school and colouring in the ends of my hair with a highlighter, but sure it's summery and it's fun and it'll no doubt spawn a few thousand imitations.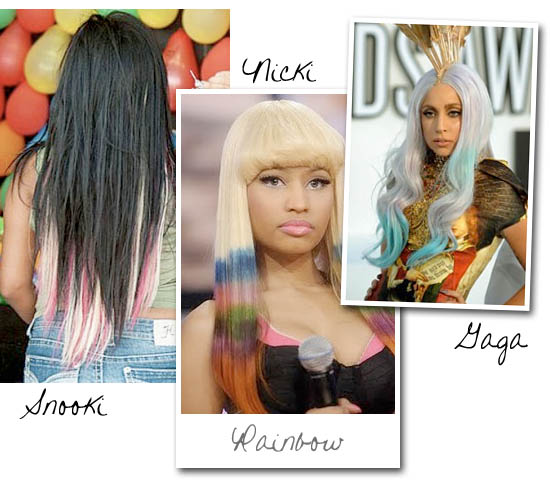 Let's ignore the fact that two of the earliest adopters have been Jersey Shore's Snookie and JWOWW, 'kay?
Advertised
According to the how to, Conrad's stylist layered different shades of temporary dye onto strands using a colour brush to achieve the tie-dyed effect. However, since all hair but the very lightest blondes would need to be lifted with bleach before the colours take, this isn't really a wash-in, wash-out situation and it's obviously NSFW.
Still, it would look deadly for a festival: you could always stuff the ends into a bun for the office (my preferred method of hiding dodgy dye jobs from Mam circa 1997) or just get the coloured-y ends lopped off if you were overdue for a trim.
What do you reckon?
Pic credits: stylelistsays.tumblr.com; haartek.wordpress.com; thebeautydepartment.com