 If there is one thing we love around here more than foundation, it's, eh, foundation. And purchases must be planned with military precision. Budget, coverage, how best to apply - we need to consider all these things before we decide on The One. Yes, SIR.
And one of the most important things to get right is shade. Because if that goes wrong, well, it isn't pleasant for anyone. Foundation is not for changing your skin tone or the dreaded 'warming up' of your natural colour. Whether you are a pale and porcelain Snow White, or whether you have been blessed with a more sallow or darker complexion, foundation should be about improving skin tone, providing coverage and giving you a beautiful blank canvas to work on.
It should be your skin but just, you know, even better. And I know that many of us struggle with this. We find a foundation we like, except it's only available in a very limited number of shades and then we spend hours in our bedroom laboratories trying to mix it with other lotions and potions to get that perfect and elusive shade. Well, put down the pipette because I have news for you.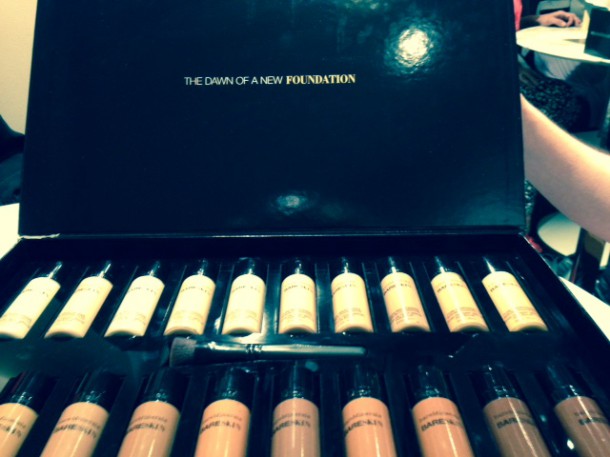 I caught up with the team from  bareMinerals recently to check out their new bareSkin foundation. What drew me to this range was their 100% shade match guarantee - they have 20 shades ranging from bare porcelain through to bare mocha. And each shade corresponds to a cool, neutral or golden tone, so you can really get a good match to your own natural colouring.
The bareSkin range is one of those hybrids, aiming to combine skincare with coverage. It is marketed as a mineral foundation and brightening serum in one, promising to tackle the appearance of dark spots after eight weeks of use. It's packed with that hard-workin' Vitamin C and it offers some sun protection with SPF 20.
Advertised
I swatched Bare Linen 03, a perfect match for my fair, neutral-toned complexion.
You have to shake the bottle well before use as the pigment can separate from the fluid. The first thing I noticed was the consistency - it's thin, lightweight and has a silky texture. It doesn't contain any oil, fragrance, parabens or silicones (great for those who find those slippery little fellas can cause breakouts) but it still has that smooth feel on the skin. It also makes me think that it would work best on drier or mature skins.
And you have to pay attention to how you apply this foundation. They have created a dinky little brush to hold the product in a well that sits in the middle of the brush. Shake the bottle, apply one or two drops into this well and then buff into the skin in circular motions, starting in the middle of the face and working your way out to ensure an even coverage. It's a clever little fella but if your technique is good, your own brush will work just as well.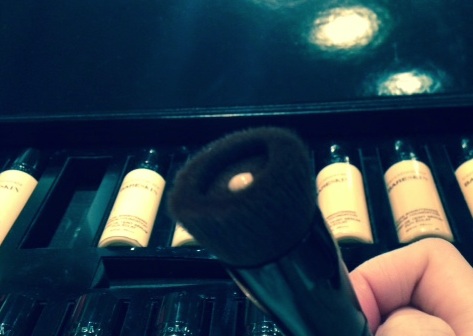 The recommendation is two drops for sheer coverage, four for medium and six for full. But be warned - a little goes a long way with this product so start with one or two and add as you need. If you started with six drops I suspect you could coat your entire head.
This is on shelves from today, the foundation will set you back €31 for 30ml and if you want to pick up the crop circle-inspired Perfecting Face Brush, that will cost you €28.
Advertised
But, shhhh, I'll tell you a secret - the first ten Beaut.ie customers to buy bareMinerals bareSkin Pure Brightening Serum Foundation and a bareMinerals Perfecting Face Brush from the bareMinerals counters in Brown Thomas stores will receive a full size bareMinerals Original Prime Time Primer worth €25. So if you are tempted to pick this up, just make sure you use the secret code word 'Beaut.ie' to get your free full size primer (one per customer, while stocks last).
Are you a fan of bareMinerals? Are you tempted to try out this new serum and foundation in one? Are you still on the search for that perfect colour match? Or will you stick with what's on your dressing table (in which case, do tell us what it is!)?