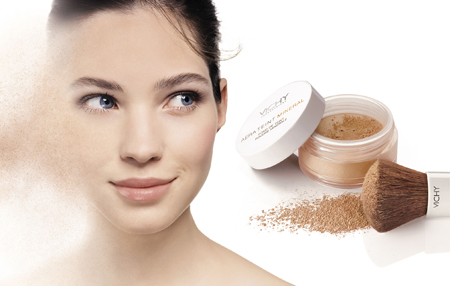 If it seemed like everyone and their Granny brought out some class of a mineral make-up line in 2008, well, that's probably because they did. So it's fair to say that Vichy are relative latecomers to the game, as they're only currently unveiling a mineral powder foundation.
However, it looks like it's been worth the wait - Aéra Teint Mineral is billed as the first purifying mineral foundation, claiming to actually help improve skin condition, boosting luminosity and reducing imperfections. OOoooeeeeeooooooh! Vichy reckon it can achieve its lofty ambitions courtesy of a blend of five purifying ingredients:
- Kaolin to mattify and control shine
- Copper to restore radiance
- Zinc to even out skin texture
- Silicium to protect the skin from daily aggressions
- Magnesium to re-hydrate skin
Advertised
Sounds like the consumer trials went well anyway: 85% of women reporting an improvement in the overall look and feel of their skin, with 73% noticing an improvement in skin texture after one month of use. Meanwhile, back at the ranch, clinical tests showed a marked improvement in the appearance of visible imperfections of oily skin.
All that and a brush and SPF20? Now this is a mineral foundation I'd like to try!
Available in 4 shades from usual Vichy stockists nationwide, priced at €26.