 When I was a little girl, my siblings and I would get very excited when our mother would arrive home with our Advent calendars. Back in those days, my favourite kind of Advent calendar was an old-fashioned nativity scene and the prize behind the window would a cute little picture of a wreath or a bell or something. Simpler times.
Now, paper calendars are much harder to find and why would you bother looking when there's chocolate to be found in modern versions? Then again why would you bother with chocolate when there's make-up and other nice things hiding behind the No7 25 Days of Beauty Treats Box?
I am not in any way ashamed to say that I am very, very enamoured by this magic box of Christmas joy. Who says Christmas is just for children? This Advent calendar for grown-ups who love beauty is the best ever.
In case you don't know how Advent calendars work, you open one window every day from December 1st to Christmas Eve (although in this case you get to open one on Christmas Day too!) and behind each window is a little treat.
Advertised
Included in the No7 box are miniatures of classics from the range including No7 Protect & Perfect Intense Night Cream, No7 Youthful Eye Serum, No7 Stay Perfect Metallic Eye Pencil, No7 Stay Perfect Duo Nail Colour, No7 Essential Lip Brush and No7 Skin Illuminator *drool*. And you can check out some of the No7 tutorials we did with Beaut TV here.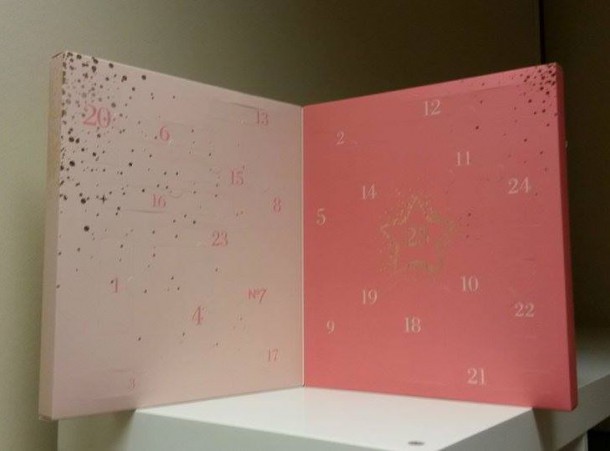 The one question I don't want to ask but I have is; is it really necessary? At €45 it's a bit on the pricey side for a casual present for the beauty junky in your life (although it's worth €170) and sure wouldn't you have to buy them a present for the big day anyway? If you could justify it, you could buy it for yourself - there's nothing quite like a daily surprise - but I don't know if I could bring myself to do that when I'm supposed to be saving for the season of goodwill.
Perhaps I'm clutching at straws here but it is a good opportunity to try those No7 products that you've always meant to give a go. And if you want more of a selection, you could check out the Benefit version we reviewed here.
I love the idea all the same and I think it would be a nice gift for someone whose birthday is in November or a friend who needs an early Christmas treat. This went on sale on October 29th and is guaranteed to sell out quickly so nab one quick!
Advertised
What would you do? Is this something you would buy for yourself or as a present for someone? There's only one thing for it, to the comments!