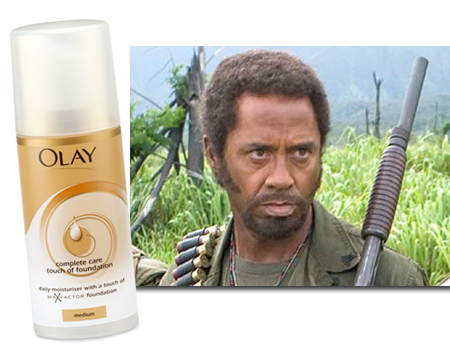 Tip number one to anyone who wants to send me a foundation product to test. I am fair. Very, very fair. I am, while not the whitest of the white, pretty damn close to it. Send me pale shades lovely PR people, I implore thee.
So when the newish  Olay Complete Touch of Foundation arrived in my letterbox, and I saw the word DARK on the sticker, I almost didn't bother trying it out. I mean - it's actually really difficult to feel positive about something that makes you look like Robert Downey Junior's character in Tropic of Thunder.  Ridiculous, in other words, and like someone on their way to a particularly offensive Halloween party. You just can't get a sense of feel-goodedness, are you hearing me?
But we're fans of Olay on Beaut.ie for their decently priced, SPF-charged moisturisers and likewise, I rate Max Factor foundations, so I struggled on. This is a hybrid in three shades (light, medium and the aforementioned dark) that contains a mix of Max Factor  base and Olay moisturisers, so it's a fairly lightweight tinted moisturiser with a sun protection factor of 15.
Advertised
It feels nice on the hand but I obviously couldn't give this a day-long trial as I'd have been arrested for inciting racial hatred/taking the piss had I worn it outside. As a result, I can't really comment on longevity/flakiness or how it wears over a period of hours.  But for €13.99, it seems well-priced for a 50ml tinted product.
Have any of you tried it? Perhaps you were lucky enough to get one in a shade that actually matched your skin tone? If so, leave us a comment and let us know what you thought.