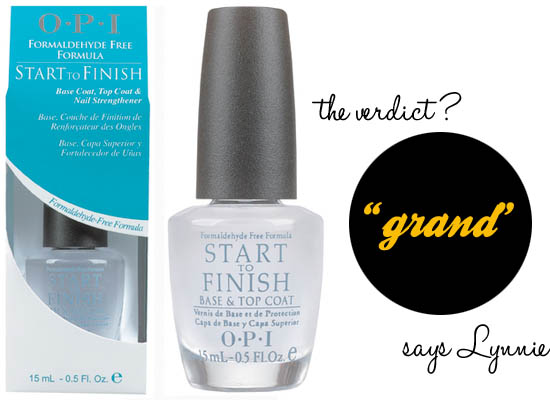 I don't usually go in for 2-in-1 base and top coats, but I've been using OPI Start To Finish instead of my usual CND Stickey/Seche Vite combo for a lot of my simpler manicures lately and am actually quite liking it.
On clean nails, Start To Finish forms a super thin base layer layer with added nail strengthening benefits and performs as you'd expect a base coat to:  shielding nails from the staining that can be caused by deep coloured polishes and giving polish extra staying power. And, although it's not billed as a ridge filler, I find that it does seem to smooth out minor ridges on my nails.
As a top coat, Start To Finish is grand. Freshly applied polish does need a few minutes to dry before lobbing this on top to prevent dragging and it's no use at all for nail art, but on your plain common-or-garden two coats of colour paint job it provides a thin, reasonably quick drying, shiny finish and, as ever, the OPI brush fans out nicely to swiftly provide maximum coverage.
Advertised
I won't be swapping over to it on a permanent basis, mostly because it's just not the best top coat I've ever used (although it does perform a damn sight better than the Revlon one I tried a while back.) However, it's certainly serviceable and sure it'll be way handier to pack than two separate bottles for travelling!
OPI is available from salons and selected pharmacies. Asos stock this for €17.94*