 Ageing. We all want to live for as long as we can but we don't particularly look forward to the onset of lines, wrinkles, dark spots and all the other things that affect our skin with the passing of time.
Yes, ageing is inevitable but thank the Lord, there are kind people in laboratories who are keen to develop products that help prevent the signs of ageing, and we know that all of you reading are more than interested in hanging on to that youthful glow for the longest time possible.
Back in April we announced that we were looking for wonderful women to take part in a Vichy skincare survey. The aim of the survey was to ask women of all ages at different stages of life to try products from a particular Vichy range that best suits their lifestyle and skin type and boy, were you guys eager to give 'em a try!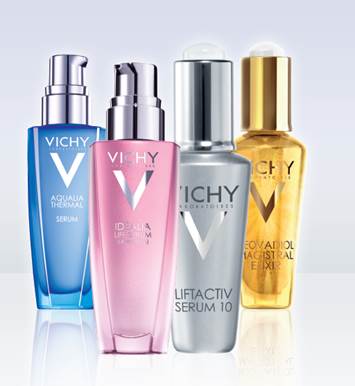 The four lines that were trialed were:
Designed to provide the skin with intense hydration, this range rehydrates and stabilises the rate of surface skin cell renewel, leaving skin looking brighter and clearer.
Targeted towards women who wish to address the impact of behavioral ageing (the effect that our lifestyle and environment has on our skin quality), the formula works to reduce the appearance of signs of the stresses of today as well as protecting against future damage and leaving your skin with a youthful glow.
As we get older, the effect of gravity on dermal fluids within the skin cause facial features to look slacker and wrinkles to appear deeper. As well as that hydration and oil levels go through peaks during the day and this leads to variations in skin luminosity and skin texture. The LiftActiv range has been formulated to target these signs of 'daily ageing'.
The Neovadiol range has been developed to target the signs that can appear as a result of hormonal changes, including changes caused by menopause, such as reduction in skin thickness and dry and slack skin.

So many of you applied to give the trial a try and now we can reveal the thoughts of the Beauties who completed it. Short answer - they loved the products and they think you will too! 94% of Aqualia trialers would recommend the range to a friend, with 92% recommending Idealia range and an incredible 100% of LiftActiv and Neovadiol trialers saying their friends would love the range they trialed.
There are obviously very good reasons for the glowing reviews. Let's hear it from the women themselves.
On the changes she saw in her skin during and after the trial:
Breakout healed quickly, pores are smaller, no dry patches and skin over all is much more hydrated, smoother and brighter looking.
- Maria, age 28, Aqualia
Smoother, more hydrated and plump and radiant.
- Helen, 36, LiftActiv
Advertised
Definitely my fine lines around my mouth and eyes have reduced. Also generally more hydrated at the end of each day.
- Teresa, 54, Neovadiol
On whether her skincare routine has changed since taking part in the trial:
Yes. The serum has been a welcome addition. I now use it throughout the day when my skin is feeling a little lackluster.
- Lucy, 25, Aqualia
I have now added the serum to my routine. I loved it and could immediately see a difference in my skin. I had never used a serum as I didn't want to overload my skin with products but I now use one ever day. I also am still using the moisturizer and love how it works with the serum. I think I have finally found a moisturiser that with a with my skin after years of trying different ones.
- Frances, 30, Idealia
On the single biggest difference to her skin:
The reduced wrinkles!
- Dara, 35, Idealia
My skin is glowing and the wrinkles around my eyes are less pronounced and as my skin is quite senstive the creams/serum had no adverse affect on my skin quite the opposite in fact.
- Mairead, 40, LiftActiv
The one word she would use to describe her skin after having used the Vichy product:
Radiant
- Anita, 31, Idealia
Glowing
- Kate, 27, Aqualia
Plump
- Teresa, 54, Neovadiol
Transformed
- Martina, 46, LiftActiv
Advertised
The results speak for themselves really. For more info on any of the Vichy ranges see Vichy.ie - Vichy Works for Me.
Did you take part in the trial? If you did, why not leave a comment and let us all know how you got on!