 We weren't quite sure about them. But now we see a velvet suit on Pippa O'Connor, we know it's going in our shopping basket.
You wouldn't call Pippa O'Connor's style unique or daring. But you wouldn't call it safe, either. While she doesn't take risks when she gets dressed up, she will try a trend. Pippa has a gift for knowing what suits her (and, in fairness, she could wear a meat dress and still look amazing), and while she's no Lady GaGa in the style stakes, she always looks good. Her style business is thriving because women love her interpretation of popular style.
Last week, she tried out the velvet suit and she is seriously inspiring us to follow, eh, suit. The suit trend is a great one - and so easy to make your own, and while we weren't totally sure about a wide-legged, loose-fitting velvet number, we think it has to be one of the most comfortable get-ups we could wear over the upcoming party season.
The best thing about matching suits in general, is that you can style them numerous ways and you can wear the pieces separately, too. Pippa's suit is from Topshop, and we like how she's mixed the high and low with that Gucci t-shirt. It would look great with a simple lace cami under, as well, and maybe, when it gets really cold, a polo neck. #controversial
Advertised
Here's the exact suit from Topshop. Oh, and it comes in a daring mustard colour, too.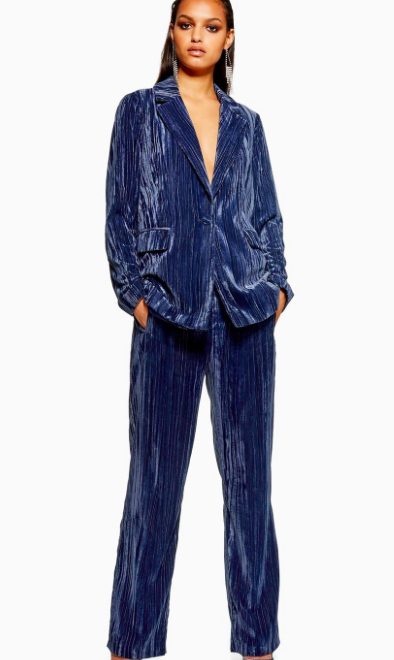 Crinkle Velvet Trousers €52 /  Crinkle Velvet Jacket €68
Would you be tempted to try a velvet suit? Would you try either piece separately? How would you style yours?