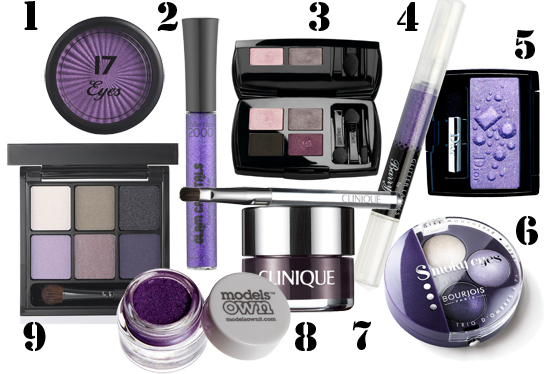 Deep purple, burgundy and dark violet shades couldn't be hotter for the winter and there are tons of them about, so it's a great time to experiment. There's a beauty-related elephant in this corner too, though: how to wear without looking like someone took a pop at you? I asked MAC's senior makeup artist in Ireland, Lesley Keane, and the first thing she said was, that, yep, it's a hard old shade to work with.
Her suggestion was to get very clever with concealer to tone down any purplish tones you may have lurking in your skin. Masking them means the shadow gets to speak volumes on its own and you don't look like a stupid sparkly vampire ((c) me 2009) with a sleep deprivation problem.
Do your concealer last, recommends Lesley. "Once you've got your shadow finished, clean up with a Q-tip and apply concealer carefully around the eye. Then buff it in for a flawless finish. Don't be afraid to buff some over the top margin of the shadow for an airbrushed look."
Advertised
Great stuff - and here are my high-end and beaut.ienomical picks for the purples to buy:
17 Solo Eyeshadow in Punky Purple, €4.89
Collection 2000 Glam Crystals Dazzling Gel Liner in Spandex, €4.70
Lancome Ombre Absolue Quad in Feline Plum, €45
Barry M Glitter Lashes pens in purple, €7.50
Dior Cristal Boréal Crystal Eyeshadow in Purple Gem, €30
Bourjois Smokey Eye Trio in Violet Romantic, €10.99
Clinique Brush-On Cream Liner in Violet Luxe, €18
Models Own Powder Eyeshadow in Deep Mauve, €5.60 (look for it at larger River Island stores in Dublin)
MAC Sorceress palette in Magnetize, €48
What do you think? Got a passion for purple or is it just puke?