 Would you believe that it was only in the final hours of 2012 that I got around to trying Sally Hansen Salon Effects Nail Polish Strips? I'm ashamed to admit it, really. I mean, I bought my first packets of them two years ago in the States, before they launched this side of the world, and I've been amassing a healthy collection ever since. But like any truly nerdy collector worth their Dalek-shaped salt shaker, I was reluctant to open the pack and actually, y'know, use them.
Aside from hoarding some hard-to-get patterns that had been Target exclusives, I sort wanted to keep them for a special occasion. After all, at €8.95 a pop, they don't really feel like a cheap DIY manicure option for everyday. So when 7 o'clock on December 31st rolled around and my nails were still buck naked, I pulled out a pack for an emergency New Year's Eve mani.
I decided to go with Misbehaved, since the shimmery champagne background colour seemed appropriate for the night that was in it and the fishnet detail worked well with my black lace dress.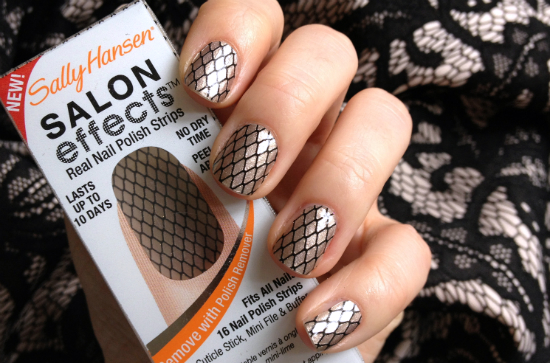 They were supremely easy to use and took less than half an hour to apply (they'd probably have been on in five minutes but for the fact that I stopped to watch the fireworks and, er, kept taking champagne breaks. Mmm, bubbly.) Each pre-sized strip is covered with a thin protective film and a backing sheet which you peel off before lining the strip up with your nail and firmly it into place. You fold the end over the nail tip to form a crease and then file away the excess, and since there's zero drying time you're left with nails that are immediately good to go.
Unlike other similar products I've tried, I had no issues with the strips wrinkling or creasing on my curved nail beds. Warming them in my hand before applying probably helped, but I think it was mostly down to the fact that Salon Effects are super thin and flexible: they're made with nail polish rather than plastic.
Advertised
By the by, I was easily able to get two nails out of each strip as mine are quite short at the moment, so I still have eight sealed, unused strips leftover. I recommend peeling off the protective film before cutting the strips in half (it's difficult to find an edge to remove this layer on the hacked off end once they're cut) and trimming the already perforated tab to fit your "other" cuticle. Being able to eke two manicures out of each box makes these strips decidedly more cost effective.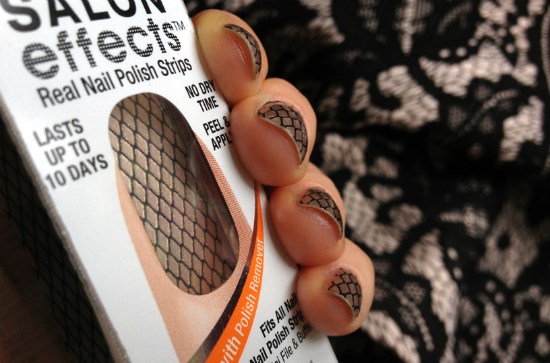 As you can probably see from the photos, I made a bit of a mess of the sizing and chose strips that were too narrow to provide full coverage for my ring and little fingers. That was my own fault, though, and overall I'm well impressed with Salon Effects. I'm now into my fourth full day wearing them with only some minor tip-wear to report, although I have noticed that they've begun to lift ever so slightly at the base of the nail. I have to say, though, that this hasn't caused any breakdown in performance and would probably be imperceptible to all but the most extreme perfectionists.
I could kick myself for waiting so long to try them and I have a feeling that my Salon Effects collection – yes, even those rare Target exclusives – is about to be seriously depleted.