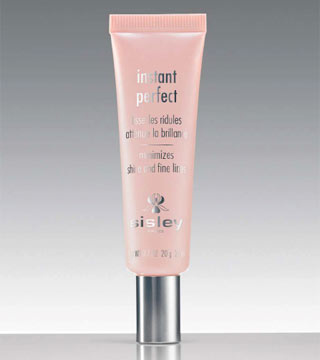 I'm a real sucker for primers. At any given time, I'm likely to have a tube of  YSL Teint Parfait in Apricot, a bottle of Smashbox Photo Finish Light, a tube of Clarins Instant Light Complexion Perfector, a pot of Clarins Instant Smooth Perfect Touch, a tube of Benefit That Gal, a tube of Estee Lauder Spotlight, and a sachet sample of La Prairie Rose Illusion Line Filler on the go.
And that's without getting into the eye and lip and mascara primers.
So it's fair to say that I knows what I likes.
Advertised
Sisley's Instant Perfect, €44, sounded like it was sure to impress. This is a silky-smooth, light pink silicone primer that promises to do it all: fill in lines, minimise the look of pores, reduce shine, brighten and unify the complexion, optimise make-up hold, and even stimulate collagen synthesis for a long-term filling and smoothing effect on wrinkles.
Things looked very promising when I smoothed it on initially - all soft-focus and velvety and, yes, brightened. Things started to go pear-shaped, however, when I went about applying foundation. Instant Perfect made it difficult to blend to a flawless finish and I found that make-up was inclined to gather in and even exaggerate the lines and wrinkles that the primer had just minutes ago disguised. During the day, shine appeared as normal. My foundation might have lasted fractionally longer than usual, but honestly it was a thing of nothing.
This would probably work best for someone who wears little or no foundation - definitely not for me, so...