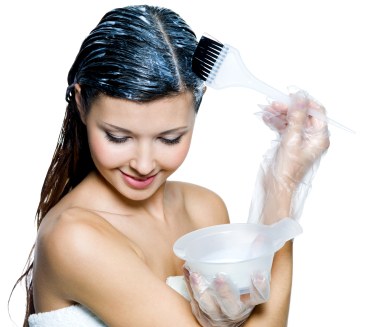 Tip 1: Don't wash too often
It may sound like a no brainer but washing your hair just washes the colour right out.   That vibrant red or burgundy or whatever looked so good when you first did your colour simply won't last kissing time if you're an every day hair-washer.  Or even an every second day shampooer.  My tip?  Learn to love Batiste and putting your hair up to get an extra day out of your hair before washing.
Tip 2: switch to sulphate free shampoo and conditioner
Sulphate swells hair - meaning that colour molecules leach out of it more quickly.  Switching to a sulphate free regime means your colour stays fresher longer - simples!  Lots of ranges are now sulphate free - MoroccanOil shampoo and conditioner for example.
Tip 3: Turn down the heat
Only use the coolest water you can bear to wash your hair with.  Hot water makes the colour run right out of hair, so make sure you treat your hair to a cool rinse at least.
Tip 4: Keep hair deep conditioned
Keeping your hair in supreme condition is essential for making sure your colour lasts as long as possible.  Damaged hair results in a roughened cuticle - meaning colour just leaches out really quickly.  You're saving a ton of money anyway by home colouring, points out Lyndell, so treat yourself to a few deep conditioning treatments
Advertised
Tip 5 (a): coarse or particularly thick hair needs more colour
You need to use two boxes of colour if your hair texture is more akin to a brillo pad then a skein of silk.  Grey hair in particular is a pain in the neck to colour as it's wirier and coarser than your normal hair.    Really saturate your hair with colour and don't be afraid to slap it on.  More is more when it comes to home hair colour and you need to use loads or your colour will look patchy and uneven
Tip 5 (b):  force colour resistant stubborn greys into submission
Just like they do in the salon, simply mix up your colour and apply it to the roots and your parting first.  Leave it on for at least ten minutes before applying the colour to the rest of your hair.  This also solves the problem of darker ends and lighter roots as it evens out colour.  The ends of your hair will probably have been coloured many times and so may look darker.  So the way to get around this is to only leave the colour on the ends for a short time.
Tip 6: thinking of a big change - don't do it yourself
Brilliant and all as home hair colour is now it still can't replace the experts completely.  If you're thinking of a major change - from black to blonde for example - don't do it at home.  You'll have to strip out the original colour first and then try to choose the appropriate shade to go on top - and to be honest it's a bit of a nightmare.  Multiple boxes of colour, a destroyed bathroom and an orange head of straw will only be the half of it and chances are you'll have to head salon wards anyway to get them to fix it.
All these tips are courtesy of Garnier and Lyndell Mansfield - she's a top colourist and all round font of knowledge about all things hair.  Despite having a VERY sore throat when I spoke to her this week she still bravely answered all our Beaut.ie questions.  I have more tips from her and we'll be sharing them when we talk some more about Garnier and this year's Shade of the Nation.