 For the last six months, I have had something special I've been dying to tell you all about. This is especially for all of you who have ever suffered with skin issues.
For those of you who don't know me or haven't followed me on Beaut, I am the Beauty Editor. But well before I took up this position, I found myself in the world of beauty after having spent my teenage years growing up with acne.
The aftermath of the acne was scaring, both from picking and poor use of products and the severity of the actual product prescribed. I was left with open pores, discoloration, and indents on my skin and I had no idea it could have been removed. That is until I found the lovely people at Clearskin Clinic.
I have been working with Clearskin for the last six months to try and get my skin back in order. And the results speak for themselves.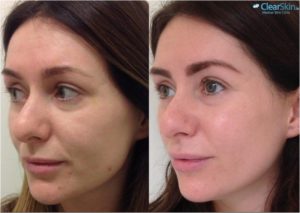 I wanted to bring you through my journey in a four-week documentary series, starting tomorrow. This series is my personal experience and is not a sponsored post.
Advertised
I will be covering
The Consultation and Skin Care Plan
Azelaic Peel and Vitamin Infusion
RF -Skin Resurfacing
Vampire Facial and Derma Pen
Every Wednesday in November, through video and articles, I will be baring all (along with some graphic imagery) of exactly what I did to achieve these results.
For those interested, a skin consultation with a therapist at ClearSkin are €20 (which is fully redeemable off any products or treatments at ClearSkin). ClearSkin Medical Skin Clinic is based in The Beacon South Quarter in Sandyford, Dublin. Call 01 2939148 or visit www.clearskin.ie