 Aisling Powell is not just our Beauty Editor here at Beaut.ie, she is a makeup artist, an entrepreneur and a woman on a mission. Having suffered with severe acne for years, her aim now is to help those who are currently affected by the condition.
Over the past few months, she has embarked on a 'skin journey' which has turned the way she thinks about her face. In the coming weeks, we will document her quest. But first, let us remind you of the path she has already taken. 
Here is her story.
For the past ten years, I have avoided writing this. I have become a person who prefers to stay in the shadows at all costs. You see, it's easier for me to be invisible than to risk getting hurt again. I don't want to be in the limelight and I most certainly didn't want to write this article.
And the reason why I shy away from attention­, the reason why I didn't want to name my studio after myself­, the reason why I got into makeup in the first place, was my face.
Let me explain.
It was in sixth class that I realised that I was different. My face wasn't the same as everybody else's. Instead of growing into a beautiful young woman, I was growing spots. Acne. It was so bad that my mother took me to the doctor to see what could be done.
That was the beginning of a long, painful pilgrimage which would last for an excruciating six years. During that time I visited different doctors every few months in search of a cure; endless appointments, endless products, endless promises. They would build my hopes up only for them to come crashing down, as the acne persisted. It was relentless. Perhaps worst of all were the looks on people's faces when they first saw me; some horrified, some compassionate.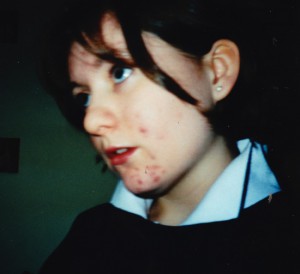 At one stage my face was purple and blue from an extremely strong medication which a dermatologist had prescribed. It was so strong that it bleached the top of my duvet and pillow cases. It sensitised my skin so much that it hurt to put my cheek on my pillow and I had to sleep on my back.
And the pain wasn't just physical; it was emotional. It hurt to be noticed. When people made comments on my appearance, good or bad, it was a dagger to my adolescent heart. Each comment reminded me that I was different. That I was ugly. That there was nothing I could do to change it. Or at least that's how it felt to me.
Some people would try to be helpful but would say such insensitive things such as 'have you tried Clearasil?' or 'changing your diet would help'. As if I hadn't already tried everything. And others were just plain mean, calling me 'pizza face'. I wanted to crawl into a dark hole and stay there. What really stung was when friends with flawless skin would complain when they got one spot. What I would have done for just one spot.
Finally, a new dermatologist asked me how much I hated my face and how much it affected my life on a scale of one to ten; I answered 11. He put me on Roaccutane for six months. This was an extreme solution because of the possible side effects, and it was only after much discussion between my parents and myself that the decision was finally made.
And within nine months we had a miracle – my acne had cleared up. So much so that the principal of my school commented on it during a morning assembly with the whole school present. Another memory that I have tried to block out along with the rest. And somehow all these years later, it still hurts to be seen. My acne may have cleared up, but the emotional damage is still there.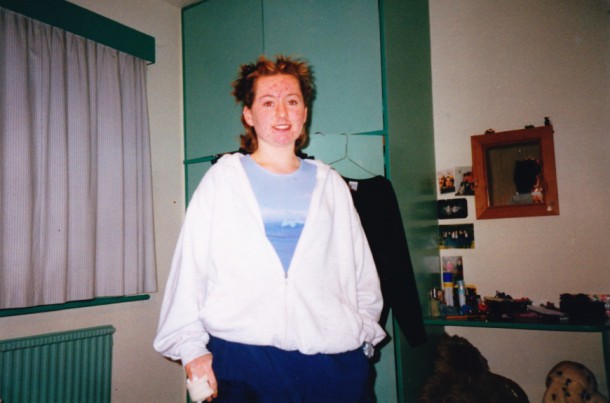 Advertised
A while ago I was looking at some old photos taken during this period. When I saw myself I actually had a wave of nausea - so much so, that I destroyed the worst ones. I've included two pictures from that time in this article, but I've destroyed more than I've kept.
Even now, I can hardly stomach thinking about those years and the damage that was done. I'm not just talking about the visible scarring but also the wounds within, the ones that never fully healed. And the fear of my acne coming back persists to this day. If I have even a minor breakout, the terror comes rushing back.
But there is, however, a silver lining to all of this. You see, it's my painful past that motivates me in my work today and helps me push towards a brighter future. They say we learn more from our pain than our joy. And it's true.
When I had acne, I used makeup to help me blend in with the crowd as much as possible. I learned to cover my acne as best as I could. I hunted the makeup counters looking for products that could help me.
And I can vividly remember one very painful lesson; I had heard a very famous makeup brand had a full coverage foundation. I was all excited going to town with my friend one Saturday after saving all my pocket money to buy this week's "solution". I walked up from the station, almost skipping, into the makeup counter and up to the artist. But her expression of disgust, when she saw me, is one I'll never forget.
I asked her for full coverage foundation. She handed me a sample without even colour matching my skin for fear she would catch my acne if she touched me, or came anywhere near me. I felt like I had a contagious disease. The walk back to the station was far from a skip. There was little that my friend could say to lift my spirits. The impact that people can have on you is huge, so much so that it can stay with you for life. And that's when I knew I wanted to open my own studio.
I graduated from IADT in model making and special effects, went on to win a ITEC Diploma in Fashion Theatre Media Makeup and from there I entered the real world, honing my skills and knowledge with Chanel, MAC, Estee Lauder, Laura Mercier and Nars.
And almost three years ago, I finally felt I had gained the skills and experience needed to open my own studio. I know that by helping people to look better on the outside, I can help them feel better on the inside – particularly people going through chemo and losing their lashes and brows, or the woman who has just had a baby and is feeling down or those who, as I did, suffer from acne.
I didn't want to write this article because I felt I was being judged throughout my teenage years and I didn't want to be judged again. The reason I have gathered my courage and stepped out of my shell to write this is to give anyone who has any kind of problem with their appearance, help and empowerment. I learned the hard way just how important looks can be to a person.
And it's not just about acne; it's about any of the issues we have with our individual appearances. I hope that it might give some amount of hope to anyone who might be going through the same thing. I want you to know this - there IS hope, and there IS a solution. It took me a very long time to find what worked for my skin but when I did, it changed my life.
So there you have it. I've come clean, faced my demons and said my piece. And if it only helps one person just a little, then it was worthwhile.
I may not be perfect, but one thing that this journey has taught me is that it's our imperfections which ultimately make us beautiful.
Advertised
Can you relate to Aisling's story? Was this something that only affected your teenage years or are you struggling with adult acne? If you have any thoughts, tips or experiences to share, we'd love to hear them.