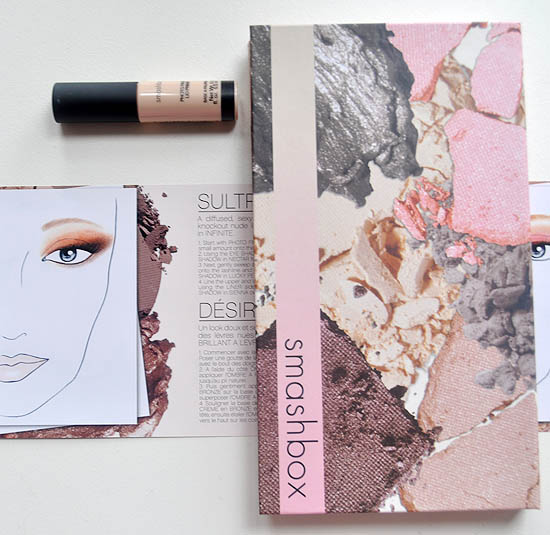 Here's another one of this summer's launches from Smashbox. We've already checked out the Limitless Lip Stains which I am loving more and more (and then some more) as the weeks pass, and now this is the seasonal shadow offering. The Softbox Eye Palette is available now for €55 - and this is quite the right time of year for it, I think.
Pink and peachy, brides will go nuts for the subtle shades and pretty finishes. But lets look a little deeper. A five minute play with the one I was given by the brand got me thinking: this is Smashbox's answer to Urban Decay's Naked Palette if I'm not mistaken, and if you haven't yet sprung for that and are hmming and hawwing at handing over €36 for a rake of slightly different browns, then read on.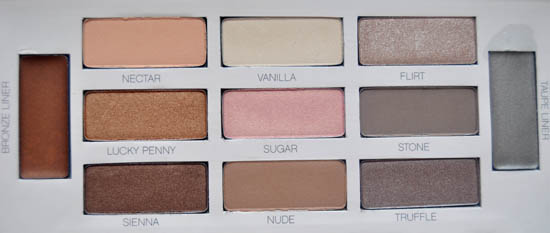 Nine shadow  shades are on offer here.  Nectar, Lucky Penny, Sugar, Stone, Truffle are all new colours in this palette, so they're not available in the main line. Stone, Sienna, Nude and Vanilla are existing shades; each shadow is about 1.26g in weight - so about .5g smaller than a shadow single. The two cream liners in Bronze and Taupe are new as well. That all gives a brand fan an enticement to buy cos you're getting lots of newbies to play with - and hey, don't they look pretty together?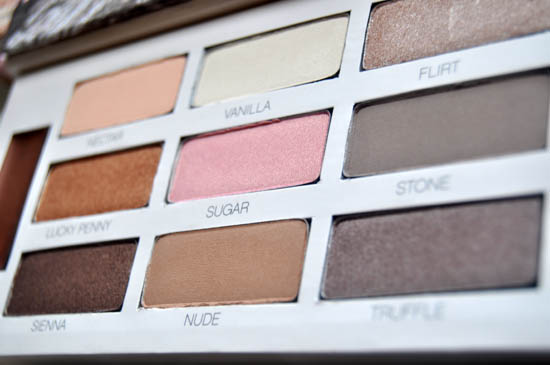 Here's another shot of the shades.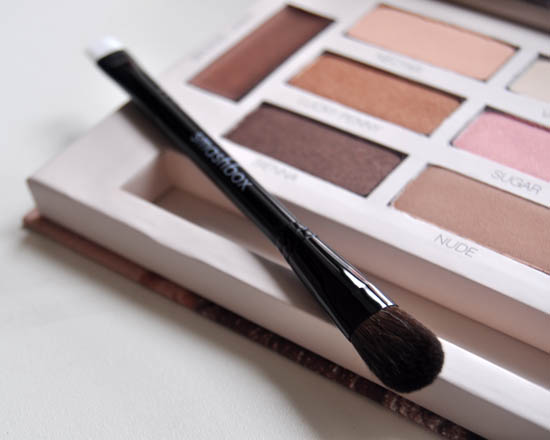 That's not all you get with this palette: a large square mirror inside the lid is integrated and it comes with a mini Photo Finish Lid Primer plus a double-ended brush. The Lid Primer is grand - though if there was some way to integrate it with the packaging that would be great, as I've already misplaced it. Doh.
The same criticism goes for Urban Decay too, though. To be fair, the Softbox palette comes with an outer box and it has a well into which the primer fits. If you keep that, then you've got a place for it; I dumped the outer packaging so I guess I only have myself to blame.
The last thing you get with this offering is a little booklet with some tips on how to create a couple of looks. There's also a barcode you can scan on the back of the palette - if you've an iPhone - which will let you download an insider secrets video, which is a nice extra touch.
Right, so we've chatted about the palette, we've looked at the colours and we've seen what you get for your €55. What's it like in use?
Advertised
I trialled this for a week and found a lot of use for it. It's a very good day-to-night palette and it's a lot more versatile on first glance than you might think. You get a good mix of mattes, shimmers and a couple of glitters - so you can get a lot of looks out of this. Check Kim K-style sexy smokey bronzey browns, barely there nude washes, basic chic taupe, brightening pinks, modern matte grey (great with this season's neon pouts), nice in-the-crease definition and much more - you can pretty much do the lot around the neutral spectrum.
I also found after a few uses of my Urban Decay palette that it wasn't so hot for a cooler skintone and I could only really use three or four shades; no such worries with this.  Lucky Penny's maybe the only one that's a bit too warm for me but as a wash I can still use it. Any other criticisms? Well, this is not a goer for a brights, darks or jewel-tones fan, and it'll leave you cold if subtle ain't your thing.
Lets check out some swatches.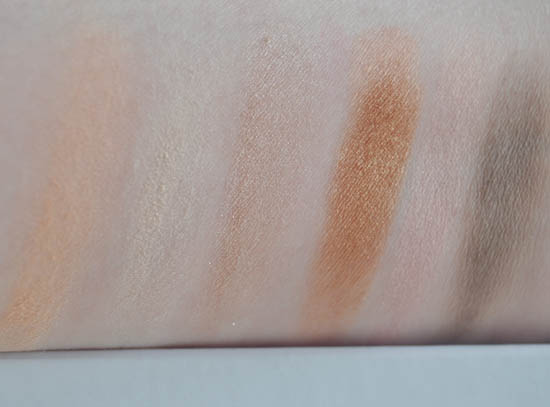 Nectar, Vanilla, Flirt, Lucky Penny, Sugar and Stone.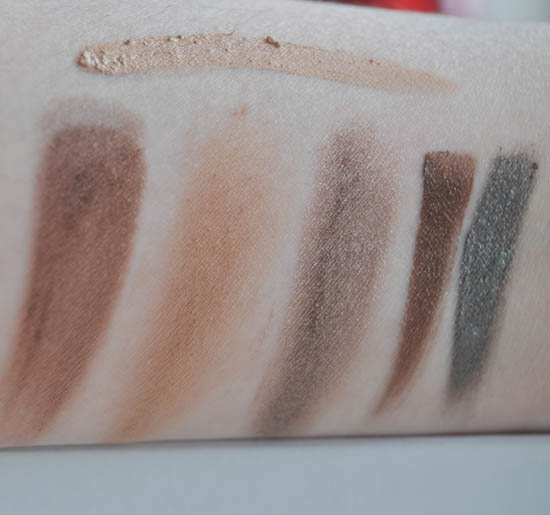 Top is a lick of the eyelid primer and then from left we have Sienna, Nude and Truffle and liners in Bronze and Taupe.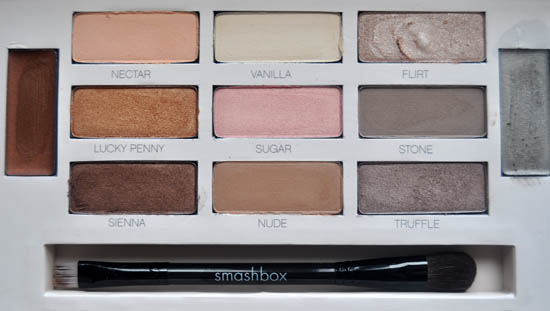 One of the niggles I often see about Smashbox shadows is that they can be powdery and can kick up. So I took a shot of the palette after I'd used it for a while and you can see in the case of Flirt it's very loose. It's actually my least favourite here - the shade is great but it's got a lot of glitter and there's fallout down on my cheeks about three seconds after application, which is a pet hate of mine. Primer helps a little but hey, this is just an issue with spangles.
I've actually always liked Smashbox for eyeshadow anyway and find the brand's offerings easy to use and blend. These are no exception. If some are a little powdery, I just make sure to tap the excess off well before I apply to my eyes. Pigmentation is consistent across the set and I'd say it's good. Longevity and intensity will again be aided by use of primer, but on a daily basis I don't tend to use eyelid primers as I've dry lids.
Standout shades for me are Truffle, Stone, Sienna and surprisingly, Sugar. This is a lovely pink with tons of rose gold shimmer when swatched and applied. It's beautiful. Nectar and Vanilla are also very nice for a super-quick, brightening daytime eye. I'm not a fan of Smashbox's cream liners - they're one of the weakest things this brand does I think - and while the shades here are really nice, I think they are just too prone to smudge.
Advertised
So, to summarise -  at €55, this is pricey, no doubt about it. If you haven't yet dipped your toes into the waters of Naked and would like a neutrals palette that performs, then this is a good bet. It's got more broad appeal than Naked I think, and at €19 more expensive it would want to. But the variation in shades is the clincher, and if we do some Justification Maths, then we can work out that each shade costs €5 a pop, plus a brush and primer. If that's sweetening the deal, then this is on counter now.