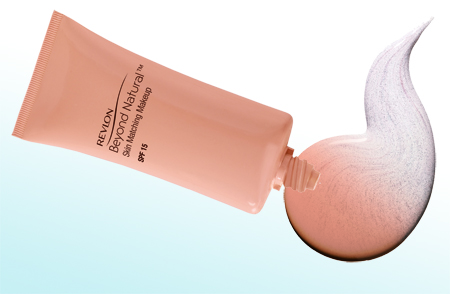 Revlon are a brand who are impressing me all over the shop recently with their bold, fashion-forward lip and nail products. I'm also intrigued by some of their recent innovations, including last year's launch of Custom Creations foundation.
If all that dialling a shade is too much like hard work for you, then check out the forthcoming (no date, but look for it soon) Beyond Natural Skin Matching Makeup, a product that adjusts to your complexion.
There are three colour-ways available, so you can start off by choosing the skin tone you best fall into - light, medium or dark. Squeeze some of the foundation out onto your hand and you'll see that it's white, but as you rub, it gradually turns a shade that'll flatter. Jings!
Advertised
I had a wee squidge of this a few months ago when it was super-top-secret, and it's all to do with teeny tiny pigment spheres that are encapsulated within the product. I've now tried the light version out on my face and can confirm that it works for me. I don't know how it works - and if this was the 17th century I'm pretty sure I'd be screaming "witchcraft" right now - but work it does. As I rubbed it into my skin, it spookily matched it.
Coverage is light and very moist - though it does set quite nicely. I'd venture that it's between tinted moisturiser-type coverage and a light foundation-coverage. So, not for those who need a heavier base, but I reckon if you're a light, glowy foundation fan, you'll like this a lot.
The damage? A very pocket friendly €14.50. Last point of note: the original press materials had the price for this as €16, and I assume the lower charge is to do with the current Sterling differential, so bravo Revlon, if this is the case.