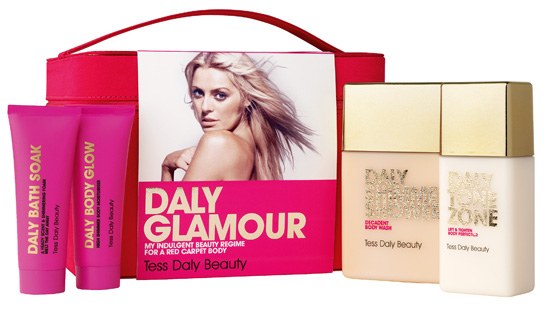 Sitting all day in a hot room with bright lights shining for inevitable photo ops would have me grouchy as a bear. Not Tess Daly, though, who warmly welcomes me onto the chaise longue on which she's perched, eating a cupcake that matches her directional pink dress. M&S, darling. The cupcake AND the dress.
In London for the press launch of the Strictly Come Dancing star's forthcoming beauty line for M&S (18 months in development, look for it from 19th October), I'm impressed by how svelte she looks for someone who only gave birth to her second child (a girl, Amber) six weeks ago, and compliment her on it. "Ah thanks" she says modestly, "I'm getting there!"
You wouldn't catch me back at work, looking leggy and perfectly tanned if I'd just brought the next generation into the world a little over a month ago, I can tell you - unfortunately you wouldn't catch me looking like that, full stop. But back hard at it she is. "You know I approached them about this?" she reveals, adding as she waves her hand, "I didn't want it to be one of those celebrity endorsed lines you see everywhere."
But why Marks and Sparks, Tess? "I love it," she says, adding "when I was modelling and lived abroad, I missed it so much, and everyone loves M&S, don't they?  I shop there all the time, and I wanted these products to be affordable luxury, things that girls can use every day."
Good – that immediately placed the line more in James Brown London territory, as opposed to the mire in which Kerry Katona's Outrageous scent resides.  Never a ringing endorsement and guaranteed to have me politely  - or not so politely - turning off.
It's clear that Tess is hugely enthused about the stuff as she jumps up, opens bottles and jars and encourages me to sniff and sample textures. But reading the press release on the plane on the way over, I wasn't sure I'd like the smell. Billed as a 'sensual warm, heady' scent with tuberose and jasmine on a vanilla base, there are also dashes of sandalwood and musk. Uh oh. In perfume terms, the latter two are a huge, massive turn off for me. It's a lot nicer in 'person' though, with jasmine predominating.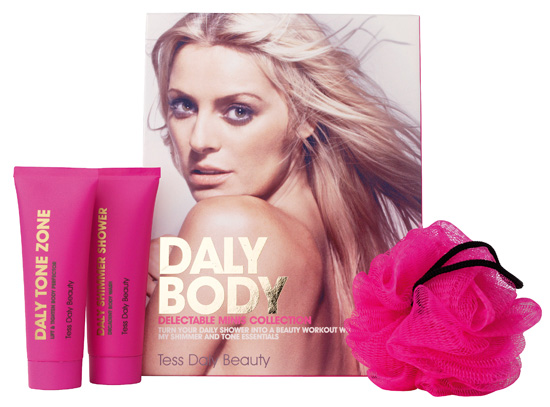 With eight products on offer, highlights include a shot-through-with-golden-sparkles bath soak that's so unctuous you'd have to scoop it out, a shimmer shower gel and a sparkly high shimmer body moisturiser that's lovely and dense. Products are also available in sets, making them ideal gifts.  As it's July, I'm not saying what for, but work it out: an event that comes after October.
Advertised
This glamourpuss obviously adores beauty. "I was a model for 12 years," she says, "so I've had all manner of stuff painted on my face and used on my body, and I love it." As we natter, she pulls a peachy Victoria's Secret gloss out of her Marc Jacobs bag and slicks it on her lips - "it's almost gone, but thank God you can get them at the airport now" - and she tells me a little about her beauty must-haves, too: "I love Jurlique and Dr Hausckha, and I go for light, floral scents. Oh, and I can't live without Clarins Tinted Moisturiser."
Bath and body goodies have a particular resonance with Tess. It's understandable - with two small kids and a demanding schedule, a long soak in the tub is her me-time.  "My feet hit the carpet at 6.30am, and I literally do not stop all day," she says.

So, do any of the products have a special place in her heart? "Well," she laughs, "I drive Bruce crazy on Strictly with my body shimmer rubbing off on his tux, so one of the things I really wanted to do was create a body oil that didn't transfer so much." That'd be the Daly Skin Shimmer, above, a relatively dry, subtly sparkly body oil that's a great dupe for Nuxe's Huile Prodigieuse. "Yes," agrees Tess, "but the Nuxe product is very greasy and I wanted to improve on it with mine."
Her other big fave is Daly Face Glow Highlighter, a handbag-friendly compact packed with a shimmery cream you can use as a complexion highlighter, or run it down the centre of your legs for a bit of a glow. "I love this," she exclaims. "I put it on in the morning, a bit more in the afternoon and then again at night to refresh my makeup."  It looks good on the hand - less robot-tastic than something like MAC's Strobe Cream, for example, and I can imagine it being a big seller.
All in all, there are lovely bits here you'll be happy to have on display in your bathroom, as well as use. My only gripe is that I think the gilt on the bottle lids may flake, but apart from that, the packaging is great - bright, chunky and fun.  So, what's next? Can we expect to see more beauty bits from Tess Daly? "Well" she says, grinning "you never know!"
Price-wise, nothing exceeds £30stg and that's for Daly Glamour, top image, which contains four products in a big satin case. The bath soak is £15stg, shimmering body oil is £12stg, face highlighter comes in at £9.50stg and there's also the titter-tastic (but only if you're Irish) Daly Spa kit which'll sell for £15stg. Euro prices when I have 'em.
UPDATE - Euro prices:
Advertised
DALY BATH SOAK €20
DALY SKIN SHIMMER €16.00
DALY BODY GLOW €13.00
DALY FACE GLOW €13.00
DALY BODY DELECTABLE MINIS COLLECTION €10.00
DALY SPA €20
DALY ESSENTIALS €20
DALY GLAMOUR €47.50