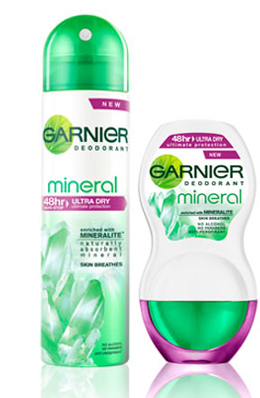 "What's the best anti perspirant?" asked a friend, knowing that we're obsessed with deodorant on Beaut.ie. "My normal ones just don't seem to be working that well anymore and I wind up feeling sticky half way through the day.
"Did you try Mitchum?" I asked. "The girls on the site rave about it."
"Yeah I did" she said. "I don't find it much good to be honest."
"Driclor?" I tried. "Ugh she said. No way - that stuff is terrible to put on." And I had to agree.
"What about man deodorants?" I said. "They're stronger than girlie ones."
Advertised
"Don't like the smell" she said "The search must continue."
A couple of days later she told me "I've found THE one!" New Garnier Natural Minerals Ultra (from €2.95 for the roll-on) apparently not only smelled nice but worked really well, keeping pits dry and fresh from morning shower until bed time.
Of course I had to instantly hurry out and pick up a can for myself to test this claim and I'm in full agreement. There's lots of different types of deodorants in this range - anti white marks; sensitive skin; post epilation and so on. But the one we are loving is the Ultra Dry.
Deadly buzz. Have you tried it yet?
Get Beaut.ie Delivered
Stay updated with Beaut.ie newsletters full of the latest happenings at Beaut.ie as well as great offers and things we think you might find interesting .