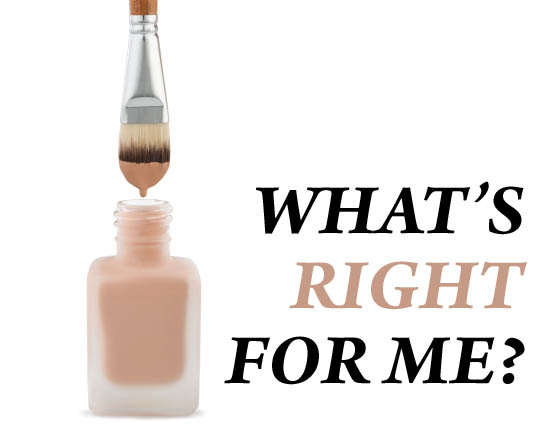 Here's the thing. Beauty brands quite want you to buy one bajillion of their products, kinda sorta half like them and then go back and buy more, slightly different versions of them. It keeps them in crystal chandeliers, unobtanium goblets and golden-plated expense accounts.  That's why - inexplicably to us consumers - they don't really make it all that clear a lot of the time who their products are meant for age and skin tone-wise.
And it's a particular bugbear with foundation. For example, if you're oily skinned, then a dewy base ain't your pal, pal. Likewise, Gobi desert types should (generally) avoid longwear with the quickness. So, here's my handy, cutout and keep cheatsheet* to help you with your foundation purchases of the future, what you should be looking for on packaging and equally what you should avoid. It might save you a few quid!
If it has a claim around longevity like 12/24/25/1,000 years, then it's been designed to stay where you've put it. Generally, oily skins repel foundation, so brands respond by adding film-formers and long-wear ingredients to their products to pretty much stick them to sebum-prone skins. If you've an already dry complexion, these types do tend to dry it out even more, but new technology is helping with that old problem
If it says oil-free: it's designed for a more combo to sebum-prone skintype
If it has a long-wear claim: it's generally designed for oilier skins so that it will stay put: dry skin often cracks and flakes with long-wear formulations, in my experience
If it has anti-shine or matte finish claims; it's for those of you with oily T-zones or who suffer with shine, i.e. your skin tends towards oiliness
If it has a lot of silicone – ditto above. It will help to banish shine and smooth the pores
If it claims to be purifying or blemish-fighting, again, it's for spotty, oily, problem skin
If it says it's dewy or glowy, go for it if you have normal-to-dry. This is a generally a red light for oily gals, so avoid
If it boasts about extra moisturisers, hyaluronic acid, squalene or water complexes, chances are your normal-to-dry skin will like it
If it says it's enriched with serum, antioxidants, essential oils or anything you'd normally associate with a skincare, then it's probably good for those with dry or ageing skin
So, lets put this into practice.
DRY/MATURE SKIN
Look for a foundation without longwear claims, without an oil-free claim, and try to avoid anything with full coverage unless of course it's a look you like. Sheer-to-medium coverage tends to flatter more and if the packaging says anything about illuminating, hydrating or moisturising, then it's a good bet you'll be very close to a fit for you. What brands to look for?
Five to try

Bourjois Healthy Mix or Healthy Mix Serum
Giorgio Armani Luminous Silk
NORMAL
You're in luck.  You can pretty much use anything but you're more likely to have a nice, calm skintype that can take all manner of products from sheer bases with glow to longwear. It'll probably be a personal preference for you as to what you go for.
Five to try
Advertised
BB Creams - look at No7's range in particular as it's targeted to skintypes
Mac Face and Body Foundation
COMBO-to-OILY
The biggest thing people with oily skins want is longevity. So a claim around that is one to look for: if the packaging is telling you it's going to last a set number of hours that's a good start. Wording like Ultra, Longwear and Ultimate are often used on base products that are designed for oily skintypes.
Hydrating factors can be good - an oily skin can often be a dehydrated one - but try to avoid products that contain oil as they'll just slide right off the end of your nose. So oil-free is a tag to check for. Happily, longwear base is much, much better than it used to be and is no longer the thick, claggy offering it used to be. Unless you've a particular aversion to it, silicone's good for your skintype as well as it smooths bumpy skin and absorbs excess shine.
Five to try
Clinique Stay Matte Oil Free Makeup (Launches in May)
Diorskin Forever Foundation
Smashbox Studio Skin Foundation
SENSITIVE
Poor auld you. Avoid anything highly fragranced for starters as it's the biggest bugbear for sensitive skins. Cleaner formulations are going to be best as they tend to contain the smallest number of ingredients and therefore the least possible number of irritants. I know lots of people love minerals on sensitive skins but a reactive complexion can also be a very dry one - and chalky powder on dry skin: well, yikes. It's a personal thing, but liquid base can be more soothing.
Five to try
Vichy Aera Teint Pure Foundation
La Roche-Posay Toleriane Teint Compact-Cream Complexion Corrector / La Roche-Posay Toleriane Teint Mineral Compact
The Body Shop Extra Virgin Minerals Liquid Foundation
W3ll People Narcissist Stick Foundation (look for it at Mise Beauty)
TIP: don't be afraid to mix it up either. I'd go for a dewier, light hydrating base for day but for night often switch it up to a heavier coverage base for a more flawless finish, for example. I wouldn't use that sort of coverage all the time as I wouldn't need it and would find it drying, but it's fine to do occasionally.
Advertised
*this is just my advice and observations. Not all this will apply to everyone, every product or brand