 Hair and makeup are an important part of your bridal look, if you're considering doing your own we have a few tips for you.
There are lots of reasons you might decide to do your own makeup for your wedding. You might love doing your makeup. Most makeup artists start out that way - as somebody who just loves doing their makeup. If you have an avid interest in it, then you're probably quite good at it, so why not do your own? You might just want to save on cash as skilled makeup artists are expensive. Or maybe you've had a bad experience or two in the past with getting your makeup done. Whatever the reason, you wouldn't be the first or last bride who has considered doing your own wedding makeup.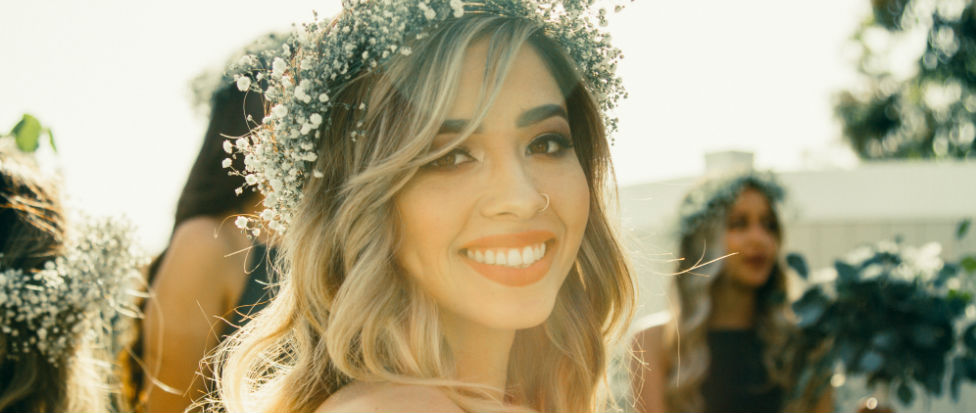 If you're thinking about boldly going out there and doing your own makeup we have some tips that might make you a little more confident in your decision.
Practice makes perfect
You can't take the decision to do your wedding makeup lightly. Your wedding face will be immortalised in pictures forever. What's more, photos are so clear now you can really see every detail. Liner and everything else needs to be on fleek and well blended. It's important to have a trial run or three before the big day. The last thing you need on your wedding morning is stress and nothing causes stress like liquid eyeliner gone wrong. The professionals always do a trial run with good reason.
Advertised
Tools
You'll need to invest in good foundation and brushes. You can only create a well-balanced makeup look if you have the right tools to do it. A visit to your favourite makeup counter is advisable to get matched up with foundation to suit your skin and your desired finish. Stock up on some perfect colours to create your look and the right brushes to apply them with.
If in doubt...
Do you want to do your own makeup simply because you are a creature of habit and don't want to feel too different on your big day? But are you worried it won't look good enough? You could always have a makeup artist there on the wedding morning - after all, your bridal party might want theirs done professionally. Then, on the wedding morning do your own makeup and have the artist make the finishing touches. You would need to discuss it with them before hand and maybe even have a trial run. Ask your artist if they would be happy to just blend out your eyeshadow, sharpen liner and make sure everything looks even.