 Having a little moment with Too Faced means that I don't know when to stop.  If I love their Primed And Poreless range so much whats to say I won't love ALL their base products?
Well the dreaded BB curse struck again.  The blockbusting mega selling Too Faced Tinted Beauty Balm in Nude Glow (€39) and my skin hated one another.  Hated one another so much they had a nuclear level, shiny satsuma argument in front of everyone and  peace negotiations quickly broke down.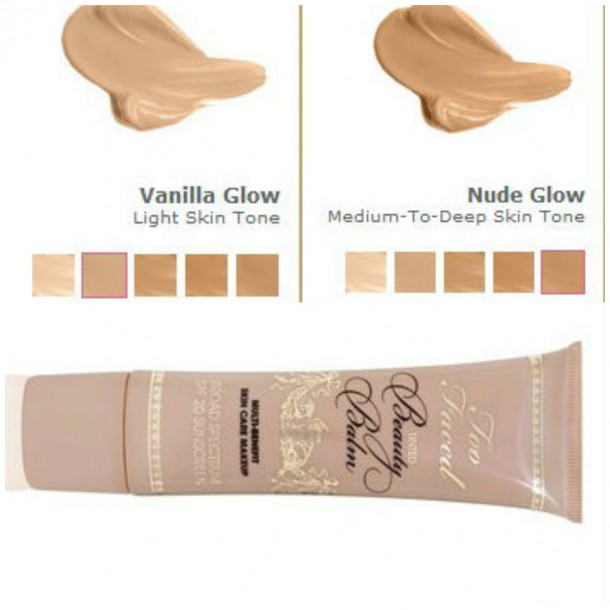 I have a slight tan at the moment (I know!  It just happened I swear) but I made a mistake in picking up Nude Glow - its for a much darker complexion than mine.  In fact it's the exact colour a Testy Broader would recommend you use to "liven yourself up a bit".  I don't know what possessed me to pick it up.
It might be great on sallow skin (which is why I presume it gets rave reviews) but on a pink toned complexion like mine and many other Irish gals it won't work.  (Read Am I pink or yellow to work out which you are.)  The greasy look (while not as bad as the Smashbox BB) is also quite worrying and I found the texture a little "sticky" and difficult to blend.
Advertised
So we had to part ways.
However I couldn't leave it alone.  I had to try the right shade and see if I would love it.  I went back to the shop and rooted until I found a lonely tube of Vanilla Glow.  MUCH better.  The tone was right, but I still had problems with the texture and sticky feel.
So even though it was my fault that I picked up the wrong shade for my skin type initially, I still didn't like the BB when I had the right one.  And now I've spent €78 on two BB creams I don't like.
Ah hell.  Has anyone else used this and liked it?