 No matter what time of year it is, there is a demand for spray-on tans. And the easier - and cheaper - the better
At this time of year, pale people are usually at their palest. I am not a huge fan of applying fake tan. The whole having to apply it and then sleep in it and then wash it off the next day doesn't appeal to me. But I am a fan of how it makes me look. The solution, I've found, is the instant spray-on body tan. The result is always quick, easy and effective (because you can see where it's going and fix mistakes); it's perfect for people who are as unorganised as I am.
When you are buying tan-in-a-can, there are a few boxes that need checking. First, it needs to be hydrating, so it doesn't stick to any dryness on the skin. This is especially important at this time of year when everything is especially dry. The next thing is that it's transfer resistant; you do not want tan transfer all over your clothes. Then, the pigment needs to be strong enough that it will even out your skin discolouration and bring some colour into your skin yet still look airbrushed instead of cakey. And finally, the smell should be good. Because this is not a wash-off tan, you do not want to be smelling of soggy cereal for whatever occasion you're doing yourself up for.
We did some research and found three very good spray-on tans that - yay! - tick all the boxes.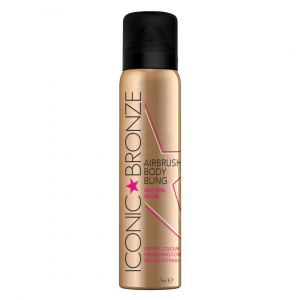 Iconic Bronze Airbrush Body Bling €12
This one is a gorgeous formula but do note that it has an additional shimmer in it. The formula makes legs look slim and toned using a highlighting effect. Legs are glittery and glowy in all the right places.
Advertised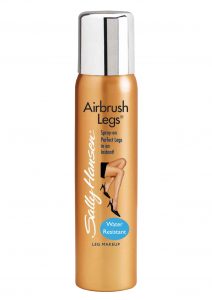 Sally Hansen Airbrush Legs €6.99
An old-time tried and tested formula and believe me when I say it's been around this long for a very good reason. This is my go-to tan when I'm running short of time and need a pick me up. It goes on easily, stays put, hides all my blemishes, and doesn't come off unless you really scrub. The price point is great and it comes in many shades from very light just to remove the blue tone on your skin (although this is quite a hard one to find) to very dark. What I love most about this product is that it makes your skin look flawless.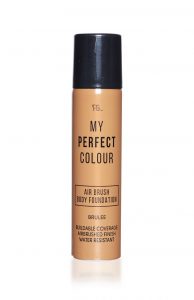 P.S... My Perfect Colour €3
This is a great substitute for Sally Hansen. The product wears extremely well and goes on like a dream. The formula has great pigment but it is slightly less pigmented than the Sally Hansen version. It has almost a satin finish so you get more of a glow to the legs, but it's not as shimmery as the Iconic Bronze. It's a happy medium of the two above.
Advertised
What is your favourite instant tan?