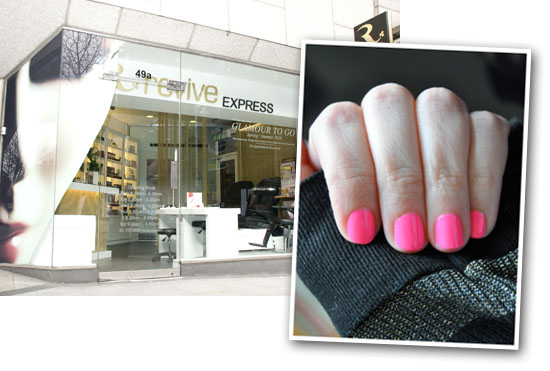 I've had my feet pedi-ed to within an inch of their (ugly) lives in Revive in Milltown before but the salon, while fantastic, is just a trek too far for me on a regular basis, especially as I don't drive and have to rely on Dublin's notoriously hokey public transport system to get places.
Somewhere I can take myself off to with supreme ease is the new branch of the empire, Revive Express, which has just opened on Dawson street - up a little from Marco Pierre White and opposite the entrance to Molesworth street. Aphrodite was in there with her editor when I crashed their meeting to see what it's like for myself. Ah I was nearby, and I'm nosy.
It's very nice - a compact space has been cleverly designed to fit in a nail bar, a brow and eyelash chair plus two pedi stations behind some glam brass beaded chain, and there's also a private room to the back for waxing and facials. There's lots of white, everything's very clean and there are loads of products out on display, including Eve Lom, Dermalogica, Bare Escentuals and Essie.
No appointments necessary make this a great option for an on-the-spur-of-the-moment treat, and I managed to bag myself a mani and some lash inserts thanks to my cheeky opportunism. I went for (I think) Short Shorts, a violently neon pink, which was possibly part of last year's Neon collection.
Convinced to go for a full mani as opposed to just a quick file and polish, I'm glad I did: my cuticles were a fright and they were tidied up nicely for me. A fast-dry topcoat and being allowed to sit and relax for a good few minutes meant that by the time we left, my nails were rock solid and there was absolutely zero smudging.
Advertised
Unfortunately for me, that didn't last  - but it wasn't to do with the treatment itself, which was great: precise and well-finished, as you can see from the pic above.  Frustratingly, my nails are weak, very flexible and nothing stays on them for longer than a day before it all heads south. Polish just can't cope with being bent about as much as it gets on my fingers, I'm afraid, and it invariably cracks and chips in double-quick time.
Packing and man-handling a case on and off a bus and train on Saturday said goodbye to most of my neon nails, but I think I'd have fared better if I'd gone for a different colour - I think fluoro shades do have a tendency to just not last anyway - plus any chipping is so super-obvious with them. Lesson learned, I reckon.
I had much better luck with my lovely lash inserts: I had about five or six individuals in varying lengths graded in from the outer corner on each eye, and they looked amazing.  I was really pleased with these and if you mind them, you'll get a few days wear out of them too - at €30, they're not the cheapest, but a really fun thing to have done for a big night out or a special occasion.
Revive Express, 49a Dawson Street, Dublin 2, 01 707 1888; www.reviveexpress.ie. File and paint costs €20, with a manicure coming in at €30.