 Topshop Chameleon Glow Colours are our latest obsession. They're the perfect makeup accessory for festival season - and beyond!
You can always rely on Topshop to come up with some cool accessories for festival season and they haven't disappointed with the new Chameleon Glow Colours (€13 each). These versatile powders catch the light beautifully, shimmering like cut diamonds. While they're perfect for summer festivals, they'll also see you through to Christmas party season too!
They can be used on eyes and cheeks by themselves to highlight and enhance. Or, alternatively, they work well layered up over products to give them a multi-dimensional, multi-tonal glow.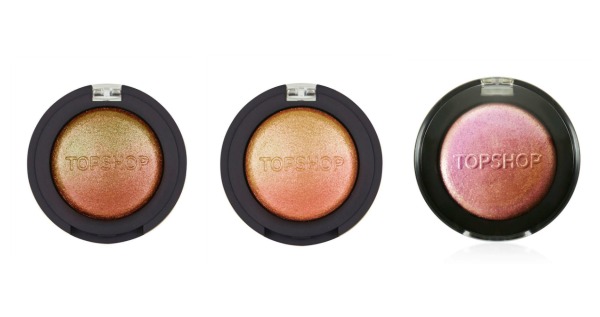 The new Topshop Chameleon Glow Colours come in three shades:
Advertised
Changeling: turquoise shimmer runs through the deeper brown/purple base
Shuffle the Cards: a rich gold with flecks of rose gold
Wax and Wane: multi-faceted purple tones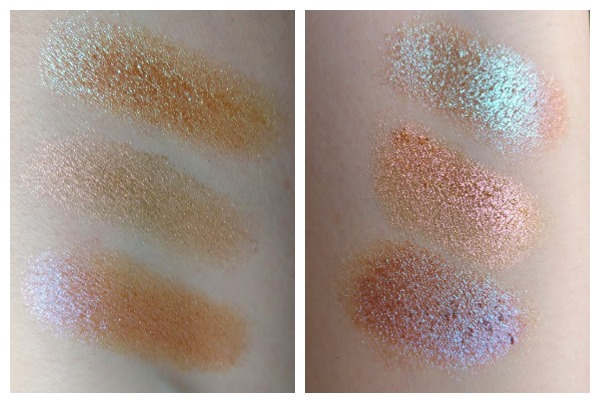 As the Topshop Chameleon Glows are powders, you can use them dry or wet. Above, you can see what the shades look like used either way. When dry, there's a soft hint of the colours and the overall effect is shimmering/glittery. It looks beautiful as a wash of colour alone or layered over a simple smokey eye.  When wet, the colours are a stronger and almost metallic, which makes for a great statement look for both eyes and lips.
Topshop Chameleon Glow Colours are available in stores now.