 Your handy guide to explaining how to use five of the most popular foundation brushes.
When it comes to perfecting your base, good skin preparation and the foundation you choose are just the beginning. Then come the brushes. There are so many to choose from these days whether you're going for a budget buy or looking to invest. We've picked five of the most popular foundation brushes to explain and show you how to get the most out of them.

Charlotte Tilbury Foundation Brush €40
Flat foundation brushes are one of the most traditional brush styles available and work best for applying primers and layering liquid foundations. They're also handy for adding precise coverage to specific areas that might need it (like cheeks).
Tapered varieties offer the added benefit of being able to blend into and around smaller areas of the face such as the nose and underneath eyes.

MAC 187 Duo Fibre Brush €42
The soft, silky bristles of duo fibre brushes make them ideal for creating a light, rather than full coverage base for skin when teamed with formulas such as tinted moisturiser or liquid foundation. Alternatively, they work really well for stippling and buffing on creamier foundation to give your complexion a polished finish.
The trick with duo fibre brushes is not to push into skin too much. It's only the top/white bristles which should make contact with skin otherwise the brush ends up smooshed (technical term) and leaves black flecks and hairs that are a pain to have to pick off (we've all been there).
Advertised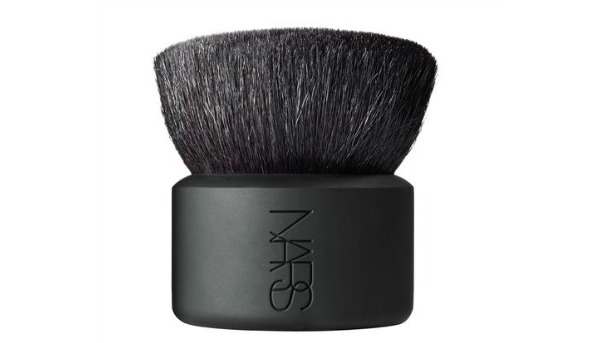 NARS Botan Kabuki Brush €69
Natural Hair Kabuki Brush
These densely packed, short hair brushes are designed for working with powder foundations. The larger head picks up and distributes product evenly whether you apply it using patting motions or light swirls. They also double up well for applying bronzers and blushers too.

Blank Canvas F20 Flat Head Kabuki €14.99
Flat Head Kabuki/Buffer Brush
The densely packed synthetic hairs of flat head kabuki brushes make them the perfect choice for working with fuller coverage liquids and creamier formulas. The flat top makes it easy to apply foundation quickly and easily while the dense bristles ensure a smooth, polished, streak-free finish.

Real Techniques Foundation Brush €14.99
Advertised
Usually, these have shorter bristles than the flat brushes which means they work for both liquid and creamier formulas. Much like the tapered foundation brush, these are designed to be more versatile so you can blend around smaller areas of the face. The slanted angle also allows you to use the brush for contouring and highlighting or for tapping on liquid blusher.