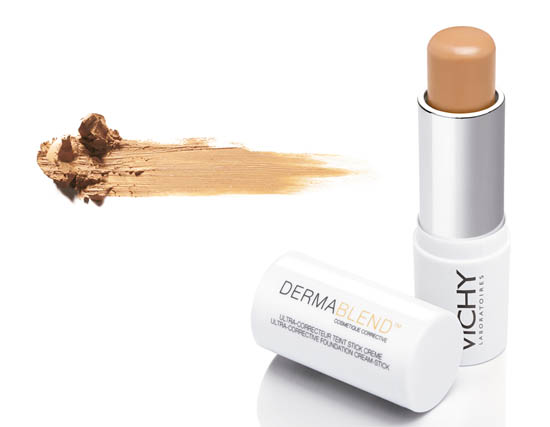 One of the things I managed to pack into what was yet another hair-tearing stressy few days this week was a workshop on skin camouflage using Vichy Dermablend products. Or more specifically, the Dermablend Foundation Corrective Cream Stick. There's also a companion fluid foundation in this small range which offers full coverage and is a good bet for anyone who likes that type of finish, but for the purposes of this post, we're sticking with the stick.
The aim here is to cover skin flaws or tattoos if needed, and draw the eye away from the problem area. You can't underestimate how distressing it can be for anyone with a visible skin issue - some aren't too bothered but others are, and that's why it's great to see something in the mass market that's affordable - the stick comes in seven shades for €21.50 - and which works.
I think I initially slightly over-expected in what it can do. It doesn't suddenly turn the patch you're covering into a cloned version of the rest of your skin. There is a makeup result; though the brand was quick to point out that a lot of the time that is enough: if the eye isn't looking for a flaw, then it probably won't find it, and certainly from a short distance it does look pretty seamless.
This ain't no ordinary concealer, either. Dermablend is a US brand which was brought into the Vichy stable and has been a market leader for years. It's specially formulated for camouflage thanks to a massive amount of pigment in the Foundation Corrective Cream Stick, and it really can cover pretty much anything.  Dermatologically tested, it's hypo-allergenic, non-acenegenic, non-comedenic, fragrance- and paraben-free so it's a goer for rosacea, port wine stains, hyperpigmentation, melasma, scars and really anything that's not weeping or suppurating. It's also not recommended for skin cancer or infectious conditions.
I hereby present to you a couple of tests to explain in pictures what it would take many words to get across.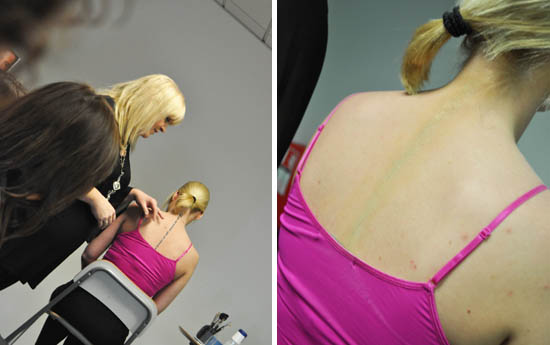 Advertised
At the workshop makeup artist Rhona Cullinan had a particularly hard task: her model's raised tattoo was jet black and went the length of her spine. I think this is an extreme example of what Dermablend can achieve to be honest and you'd get a much more seamless result with a reddened skin issue or a coloured tattoo.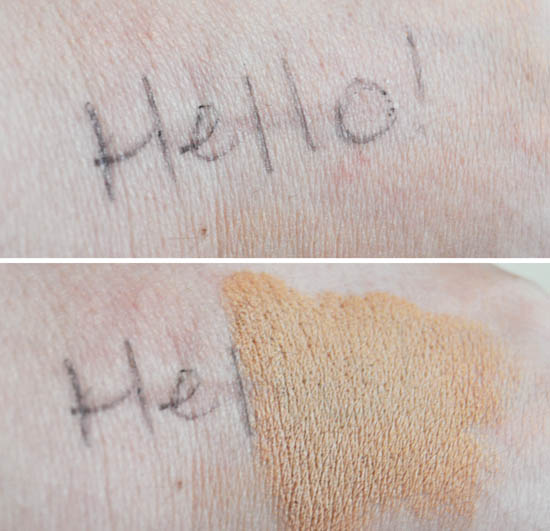 So, when I got home I got busy with the sample I was given. Ignore the shade, it's quite clearly wrong for my skintone but as an example of how this stuff covers, it works. My Biro-ed 'Hello' was completely masked with one swoop of the stick and if you can imagine this in a matching skin shade well blended out, it will provide a very decent camouflage result.
Promising 16 hour wear, it's waterproof so can be used for swimming, and it'll stick about longer if you set it with the companion powder, which costs €19.50 for a massive jar.
What's nice about this product is that it's affordable, easily available and normalises and provides a solution to something that can be a very stressful experience. If you're suffering from a skin issue you'd like to cover up daily or just for special occasions,  then you don't have to go to a dermatologist and spend a fortune - this stuff is in pharmacy and you can put it on yourself.
Even better is that there are now 50 pharmacies nationwide offering a Dermablend clinic with a private area where you can talk to a trained adviser and get help and advice on your problem and how to cover it. Clinics are currently available in the following locations, with 10 more to come, and the service is free.
Advertised
URBAN PHARMACY 56 DUBLIN ROAD BELFAST ANTRIM
SAM MCCAULEY CHEMISTS (FAIRGREEN S. FAIRGREEN PARK CARLOW CARLOW
OSULLIVANS PHARMACY 2 OAKFIELD LAWN BALLINLOUGH CORK
FITZGIBBON PHARMACY LOWER CORK ST MITCHELSTOWN CORK
HORGANS PHARMACY (MARKET SQUARE) UNIT 13 MARKET SQUARE MALLOW CORK
HICKEY PHARMACY (BALLINCOLLIG) UNIT 16 BALLINCOLLIG S/C BALLINCOLLIG CORK
CLEAR PHARMACY (BANBRIDGE) 21 BRIDGE STREET BANBRIDGE DOWN
UNICARE PHARMACY (MILL S.C) THE MILL SHOPPING CENTRE CLONDALKIN DUBLIN
HICKEY PHARMACY (HENRY STREET) 6 HENRY ST DUBLIN 1
Unicare Santry OMNI PARK SHOPPING CTR SANTRY DUBLIN 11
MCCARTANS PHARMACY UNIT 1 SUPERQUINN SHOPING CT SUTTON CROSS DUBLIN 13
MCCABES PHARMACY (DUNDRUM) LEVEL 3 UNIT 17 - 19 DUNDRUM TOWN CENTRE DUBLIN 16
RAFFERTYS PHARMACY CORNELSCOURT SH/CENTRE FOXROCK DUBLIN 18
UNICARE PHARMACY (ARTANE CASTLE) ARTANE CASTLE SHOPCENTRE KILMORE ROAD DUBLIN 5
HICKEY PHARMACY (PHIBSBORO) UNIT 6 PHIBSBORO DUBLIN 9
Unicare Frascati S.C. FRASCATI SHOPPING CTR BLACKROCK DUBLIN COUNTY
MCCABES PHARMACY (PAVILLION) THE PAVILLION SWORDS DUBLIN COUNTY
MATT OFLAHERTY CHEMISTS 16 - 18 WILLIAM STREET GALWAY
FEELYS PHARMACY DUBLIN RD TUAM GALWAY
REENS PHARMACY COLLEGE SQUARE KILLARNEY KERRY
SAM MCCAULEY CHEMISTS (TRALEE) LTD MANOR WEST SHOPPING CENTRE TRALEE KERRY
CH CHEMISTS TRALEE LTD 31 THE MALL MARKET PLACE TRALEE KERRY
HICKEY PHARMACY (MAYNOOTH) UNIT 11 MAYNOOTH SHOPPING CTR MAYNOOTH KILDARE
BURKES PHARMACY(NAAS) 3 NORTH MAIN STREET NAAS KILDARE
COXS PHARMACY BRIDGE STREET CARRICK-ON-SHANNON LEITRIM
MCCABES PHARMACY (DOORADOYLE) THE CRESCENT SHOPPING CENTRE DOORADOYLE SHOPPING CENTRE LIMERICK
O'HANLON PHARMACY MAIN STREET BALLYMAHON LONGFORD
TOWN CENTRE PHARMACY DROGHEDA LOUTH
HICKEY PHARMACY (NAVAN SC) NAVAN SHOPPING CENTRE NAVAN MEATH
STAUNTONS PHARMACY STAUNTONS PHARMACY ATHBOY MEATH
HICKEY PHARMACY (NAVAN SC) NAVAN SHOPPING CENTRE NAVAN MEATH
EAKINS PHARMACY P WARD MPSI 21 MAIN STREET CARRICKMACROSS MONAGHAN
DOLANS PHARMACY (BRIDGE CENTRE) UNIT 10 THE BRIDGE CENTRE TULLAMORE OFFALY
MCGUINNESS MEDICAL HALL MAIN STREET ROSCOMMON ROSCOMMON
NICHOLSONS PHARMACY 2 STEPHEN STREET SLIGO
Toher's The Chemist 24 O'Connell Street SLIGO
MULLIGANS CHEMIST LTD (CITY SQ) CITY SQUARE SHOPPING CENTRE PETER STREET WATERFORD
PHILLIP MCGORISK PHARMACY UNIT 8 JOHN BRODRICK STREET GOLDEN ISLAND ATHLONE WESTMEATH
MULLINGAR PHARMACY 49/51 OLIVER PLUNKET STREET MULLINGAR WESTMEATH
HICKEY PHARMACY (ARKLOW) UNIT 12-13 BRIDGEWATER SHOPPING CTR ARKLOW WICKLOW