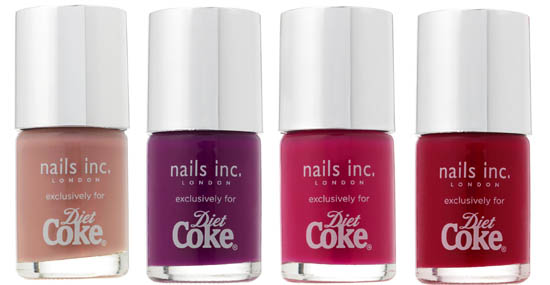 Flake's collaboration with Benefit was a recent master (mistress?) stroke of marketing - I've certainly never seen a beauty ad campaign go as viral as it did, so perhaps polish brand Nails Inc and Diet Coke were inspired?
However it came about, I have an inkling that you lot will like this little freebie a lot: for the rest of this month, right until  June 30th at participating Boots stores, if you buy two 500ml bottles of Diet Coke, you'll get one of four specially-created Nails Inc shades for absolutely zero pee! Yup, free gratis.
I can totally see a frenzy-vortex beginning. From small ripples will come huge, massive, cyclonic desires to collect all shades in a kind of throw-back to our collective Panini sticker album-obsessed childhoods. Now! This instant!
Advertised
You can choose from fash capital-inspired shades London (a nude), Paris (deep purple) Milan (a fiery Italian red) and New York (vibrant fuchsia pink), and as for availability, bigger Boots stores like Liffey Valley and Cork's massive Half Moon Street branch would be my feeling stockist-wise - but hey, you never know, so check your local store for details.