 Weddings stress me out.
And I'm not even talking about trying to plan one myself: just being a guest is enough to send me into a proper flap because I never know what to wear.
I have a fair idea of what not to wear, though, a list which I understand includes (but is not limited to, depending on the levels of Bridezillery in question) anything too short or too low-cut, anything bearing even a passing resemblance to what the bridesmaids are wearing, and frocks in the white/cream/ivory colour spectrum.
Oh, and wellies.
According to an item I heard recently on the radio, scads of ladies are opting to pair their best wedding guest garb with welly boots to cope with the wet summer (or swinter, as I've seen it christened on The Twitter) weather. Now I hate getting wet, and I hate wet feet, and I'd especially hate to ruin a nice pair of shoes while getting my feet wet, but this still seems a bit OTT to me. And lookit, I know that wellies have made the transition from farm wear to festival wear to fashion wear, as evidenced by the numbers of people wearing them around town with their normal clothes on damp days, but while there are women who can make wellies look cool they're not exactly, well, dressy, are they?
Advertised
I've seen several weddings online where the bride wore wellies; Carey Mulligan reportedly wore a pink pair with her Prada dress for her own wedding a couple of months ago. With our climate, I guess I can understand that from a practical point of view; it makes sense if you get a mucky day but want outdoor photos without destroying your shoes (although I am always slightly bemused by photos of brides wearing wellies while their dress trails the ground.)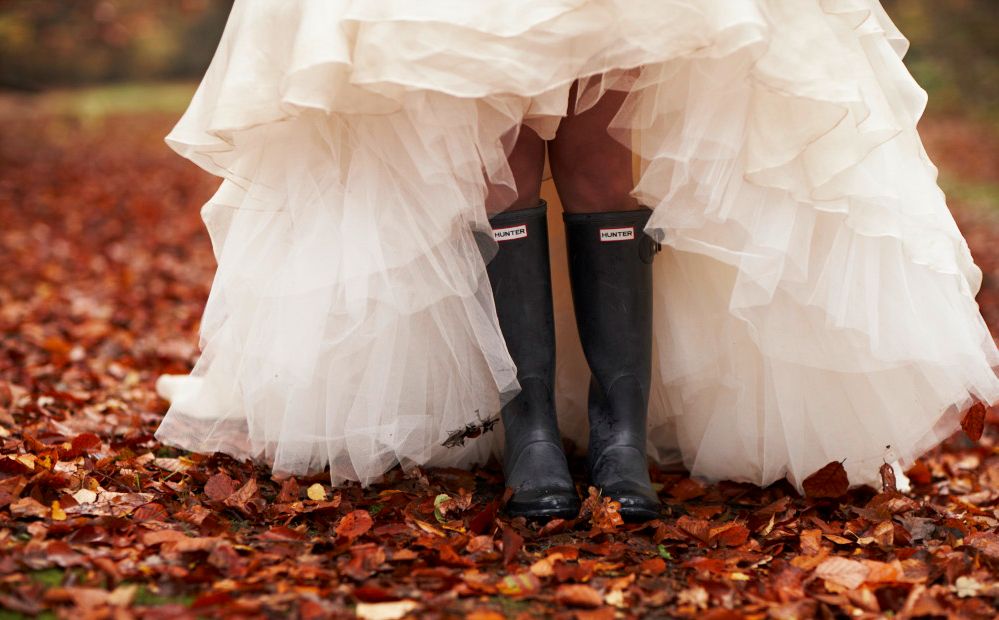 Nooooooooooo...
Still, when I was thinking about this during the week, I pretty much decided that there were only two scenarios where I could give wellies at weddings a thumbs up: a wedding with a very serious agricultural theme, or one that took place at Electric Picnic after it had been raining all weekend and the nuptials in question were taking place in the inflatable church. But then again I've only been to one wedding in a marquee, where the ground beneath the decking was frozen solid rather than soggy, and never any outdoor ones, so maybe I've been too quick with my "hell no" to weddington boots.
Would you wear (or have you worn!) wellies to a wedding as either a guest or the bride? I'd love to know!