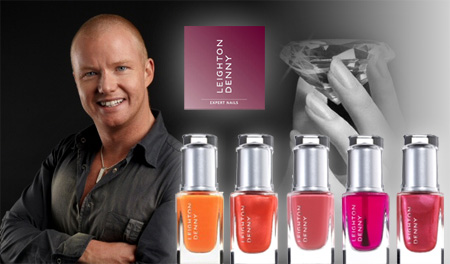 Last week, I met nail guru Leighton Denny at the launch of his nailcare range in Make Up Forever on Clarendon Street. This lad was voted British Nail Technician of the Year four years on the trot and is widely regarded as the best in the industry, so I was looking forward to having a little chat with him. I nearly passed out when I discovered I'd also be having a manicure with the man himself - my nails are never things of beauty, but I was sporting two that had just broken really badly and divil a bit of me could find a nail file.

After a look at my talons, though, Leighton tells me that they aren't really in terrible condition, just a bit dehydrated. Straight off, he asks what kind of nail file I use. Apparently, even if you're careful to file in the right direction, the grit of most nail files is much too harsh and leaves the tips of the nails open for water to penetrate. This weakens them and is what causes the layers of the nail to flake apart. Leighton recommends ditching your old file and switching to something like his Crystal Nail File which has a super smooth surface and actually seals the nail edge so that nails have a chance to grow without splitting. In terms of shape, Leighton reckons that we need to forget about square or even squoval nails - a very definite oval, almost almond shape is the way to go this season. Sounds vay elegant.
Once my hideously unfashionable squovals have been overhauled, Leighton begins buffing my nails. Buffing is an essential part of any nailcare routine, Leighton believes, but he warns that it's easy to apply too much pressure which will weaken the nails. He shows me his Quatro 4-Sided File & Buffer which is foam-backed and perfectly weighted for buffing - the idea is that you let the buffer do all the work without applying any additional pressure. Sounds unlikely, but after only a few feather-light strokes my nails are absolutely gleaming.
Advertised
Next, some Slick Tips cuticle oil is applied to my nails. Containing lemongrass and peppermint essential oils, it smells divine. Leighton massages it into each nail for just a moment, which is long enough for it to be absorbed, before wiping away the excess using his Hydra-Flex Treatment Polish Remover. More essential oils in this - 9 in all! - means it's nail varnish remover, Jim, but not as we know it.
Leighton finishes off my nails by giving me a French manicure with a twist, using polishes from his Diamond Nail collection. Containing real diamond particles, these polishes are hardwearing and provide a subtle, shimmery, light-reflective finish. For added durability, my manicure is topped off with some Crystal Finish topcoat [Leighton tells me that it's being called bulletproof] et voilà - ten lovely digits for me to admire all the way home... and for a full 5 days afterwards.