 This party season, you will most likely need to put this emergency spot concealer tip into action.
We're spending November being good and living clean and prepping our skin and hair for the season of judgement. Like, we all want to look good for a reason. But no matter how well you do in November and despite your endless efforts to eat well, get lots of sleep and manage your skincare, a spot disaster is almost inevitable.
You're bound to get the type of spot that simply can't be covered. Red, angry, pulsating. A mound underneath the skin. But don't go hiding at home with a mug of hot chocolate and a Christmas ham sanger (although that does sound kind of appealing); try this insider emergency spot concealer tip instead.
The secret? Eyeshadow primer.
Urban Decay's classic eyeshadow primer works a charm, but you can use anything with the same consistency. Another product that has been proven to work (by me) is bareMinerals' 5-in-1 Cream Eyeshadow Broad Spectrum. For a budget solution, try that old favourite, L'Oreal's Colour Tattoo cream eyeshadow, in your skin tone.
Advertised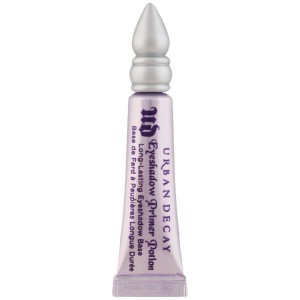 How to do it
Dab a small bit onto your spot, then apply your concealer over the top, and set with powder. That's it. Simple, easy and you can be 100% sure this little method will keep your spot covered all day long. Don't forget to remover your makeup thoroughly after, though; this coverup is particularly thick. Be careful, too, you don't want that spot a-spreadin'.
Use this tip for your seasonal breakouts - and beyond!
Advertised
What do you do when you get a spot at the most inconvenient moment? Would you stay in? Go out anyway in defiance of societal norms? Or do you have any other emergency spot concealer trick you want to share with the gang?