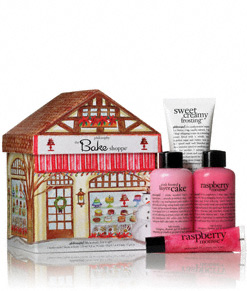 Philosophy are fond of packaging stuff in little houses (remember the Gingerbread House?).  This here is so cutesy wutsey though it almost gives me a sugar overdose.  You know when you were a kid and you gobbled up too many rice crispie buns and fairy cakes  at a birthday party? Exactly.
From the name: the Bake Shoppe with an e, to the super sugary smelling contents this is only something a tween will love.  And believe me, tweens will love it.  The house is super clever - the roof comes off, the "ground floor" swivels out most delightfully and the contents are pink, pink, pink.  Two 120ml shower gel/bubble baths, a body cream and a lipgloss fill the house and the Shoppe is sturdy enough to contain lots of girlie rubbish forever after the products have been used.
Got a little Hannah Montana lover on your Christmas list?  This is one for them.
Advertised