 So, lets get the awful news out of the way first: the six colourways that make up YSL's new Pure Chromatics palettes cost an ouch-inducing €53 each.
Everything else is good, though, including the sleek golden casing. Check it out - gorgeous.
YSL counters in Brown Thomas stores will have the palettes from this weekend with nationwide distribution from March 17th. So, shall we take a look at what's inside? Oh, go on.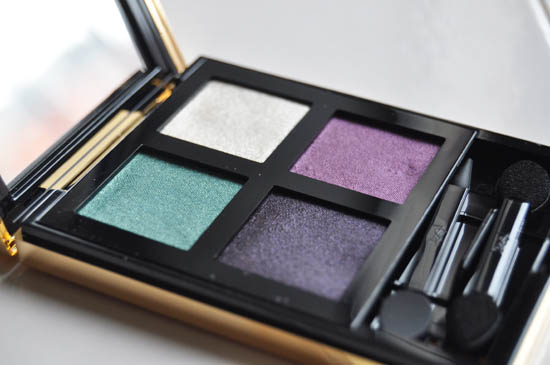 Number 4 arrived in my postbox from the brand. MmmmMmmm. Pretty colours, eh?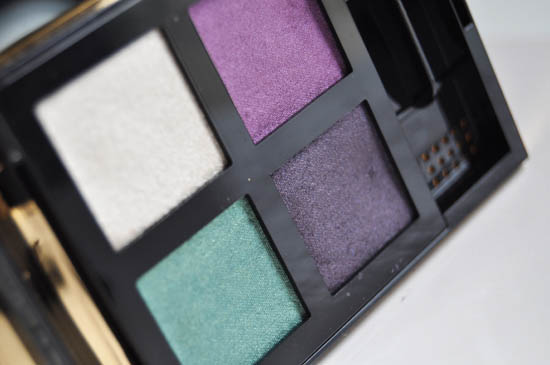 Yeah, lets have another look at 'em from a kerazee angle.
So, the whole point behind YSL Pure Chromatics is that they're expressly designed to be used wet or dry. Big swinging mickey, you might be thinking, "sure I do that all the time an in anyways with any auld shadow and it doesn't cost me €53." Well - yeah, no getting away from that, is there?
But - and there's always a but in beauty land -  these are made using a special patented process. Formulated with water, this apparently allows a higher concentration of pearls and pigments than traditional pressed powders - 50% more, the brand claims. Well, y'know, not sure what they benchmarked that against as I have plenty of shadows that have equally good payoff and intensity.
Because the manufacturing process involves water, they transfer back very well as it happens, with none of that super-annoying crust you can sometimes get on powder shadows which then renders them completely useless. Adding a damp brush to this palette immediately turns the powder into a malleable cream and that makes it incredibly easy to use. It then dries and can be used over and over, or until you hit pan.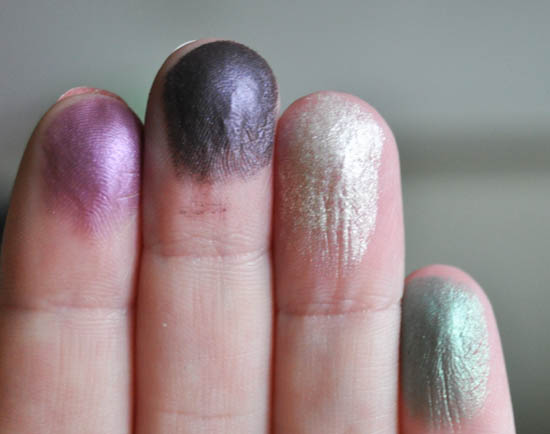 YSL say the effects are different depending on wet or dry usage. So, are they? Here are the swatches, lifted from the palette with dry fingers. Quite intense, shimmery and very stand-out, I reckon.
Advertised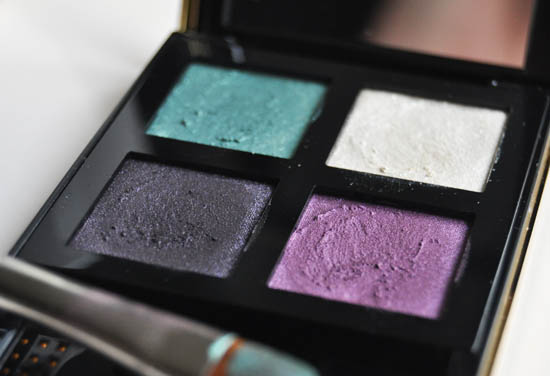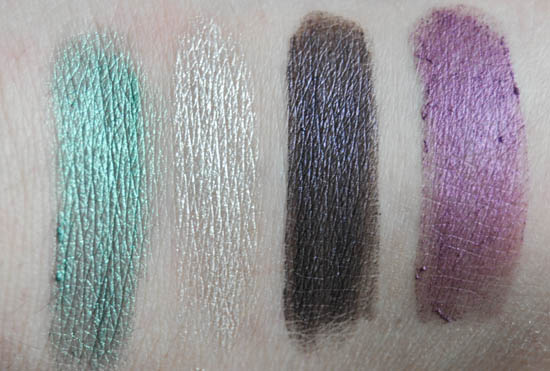 The top pic shows the palette post-wetting so you can really see how it mixes up when water is applied. And the bottom pic shows the damp swatches, applied on my hand with a brush.  Here's another bit of YSL fancy gubbins on how they transform from dry to wet: "pearls and pigments keep the memory of water," gush the brand. Oh aye? "When the powder dries,  the pearls are orientated in the same direction, allowing better light reflection and never before seen metallic radiance."
Right so.  This quick test seems to confirm that they do swatch with more intensity but do note that I have also applied them more thickly.
In use then, how do these perform? They're beautiful to use, no mistake. The quality is obvious and the payoff is fantastic. I would expect that from YSL, especially at this price point, and I do already highly rate its shadows - the quints and duos are always good.  But hand on heart, I can't say that when I used this on my eyes that I noticed a very great deal of difference between the intensities and finishes when used wet or dry.
I'm probably more likely to use these dry but I'm pretty sure a makeup artist would mine the potential of these better than me - you can sheer them out, use them as a liner, create graphic flicks or sharply-defined blocks of colour, all of which I do intend to attempt. More patience would also result in a more foiled finish too, I reckon. But the main point of Pure Chromatics is that they offer versatility and choice, which is always appreciated.
So, Sunday saw me using the two purple shades for a quick lunch-with-family look: I applied the deep aubergine shade wet to the lid and blended it out with the same shade used dry.  It's a little tricky working with the colours damp as they dry fast, so I think a wet/dry combo works. I then applied the brighter purple to the inner corner by the nose and lightly blended it back towards the ball of the eye.  It looked good I reckoned, and both my mother and Aphrodite commented on it.
Next up for me with this palette is to try it for liquid liner. With my browny-green eyes, I think the green's gonna be a goer.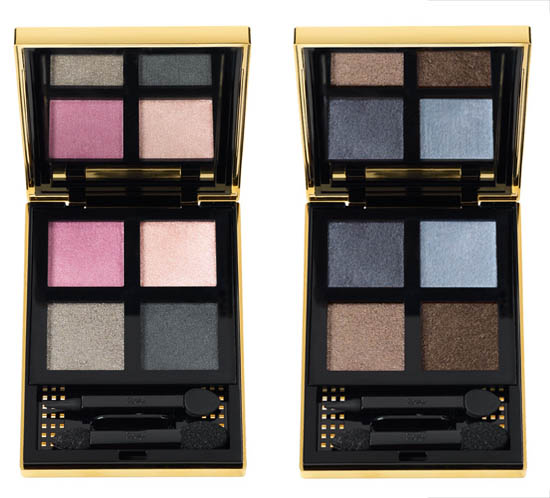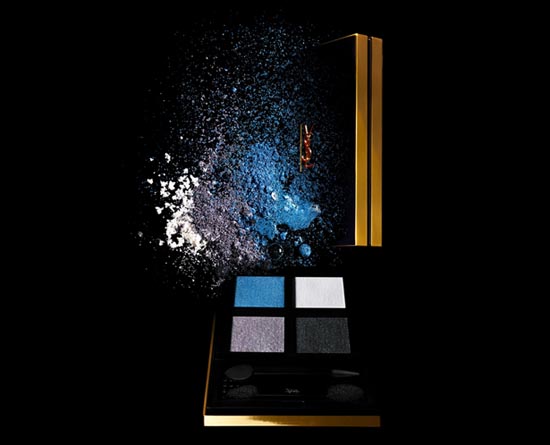 Three more of the six colourways available.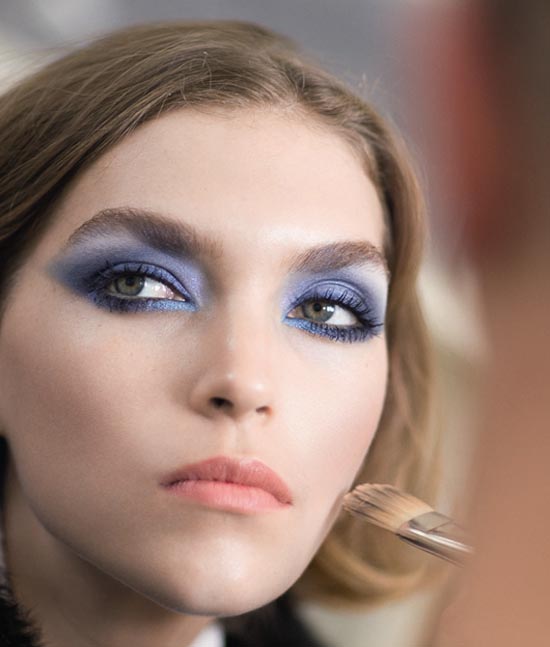 And the all-important model shot, showing you just what can be achieved with the shades.
Advertised
Whayddya think? Would you dismiss this as a gimmick or are Pure Chromatics something you'd really like to try?