 The YSL Touche Éclat All-In-One Glow Foundation is the newest member of the Touche Éclat family, and we love it
We all have heard of the Touche Éclat family at YSL, starting with the dark circle eraser and progressing to foundation. The range of products is all about natural and glowing skin which is exactly what spring/summer makeup is all about. If you have oily OR dry skin, the newest launch, Touche Éclat All-In-One Glow Foundation, could be your new medium-coverage fave.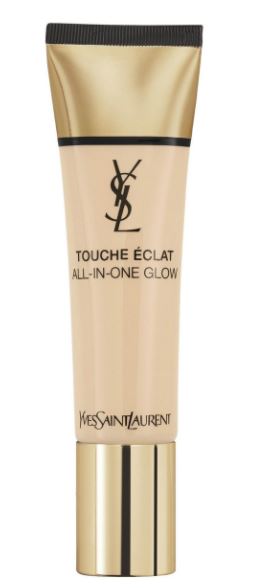 YSL Touche Éclat All-In-One Glow Foundation €44
This is a 'ready to glow' foundation that you can apply effortlessly. It has a cream to water texture which gives the skin a dewy-not-shiny look. My skin is primarily oily, and I tend towards full-coverage foundations. 'Dewy skin' makeup is geared towards those with drier skin, but everyone wants that no makeup perfect skin thang, so I tried it out anyway.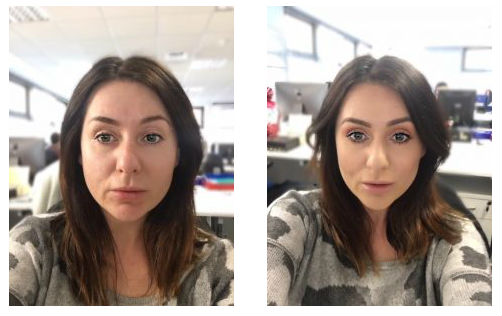 Advertised
Without a scrap of makeup / Made up with YSL and a lil mascara
In the picture on the left, there I am sitting at my desk makeup-less. As you can see, my skin requires a lot of coverage to hide the discolouration, open pores, lumps and bumps.
On the right, I'm wearing the YSL Touche Éclat All-In-One Glow. I don't say this lightly, but it's a bit of a game changer for me. Fellow oily skinned gal Miriam has also been using this, and she loves it, too. What I like about this foundation is that is it very hydrating. It's also extremely lightweight and goes on really well without having to work hard to blend or buff it in. It's definitely a natural to medium coverage which is perfect. For those of you with lovely skin to begin with, that's all you'll need; I needed a small bit of concealer for my current chin breakouts. The foundation is really dewy in the finish leaving your skin with a gorgeous radiance. Unlike other foundations that promise radiance, it didn't leave my skin looking marked, highlighting my imperfections. Also, for a medium-coverage foundation, I found that it wore very well. I needed to touch up from time to time over the day, but it didn't completely melt off my face leaving me with patches.
The glow it promises dulled throughout the day, so I would recommend using a touch of highlighter or a glowing primer, for drier skin. The finish is less 'flat' for combination or oily skin, which came as a surprise.
This is a great summertime foundation, and really hydrating for those of you with drier skin types. It's available now for €44 in 12 shades.