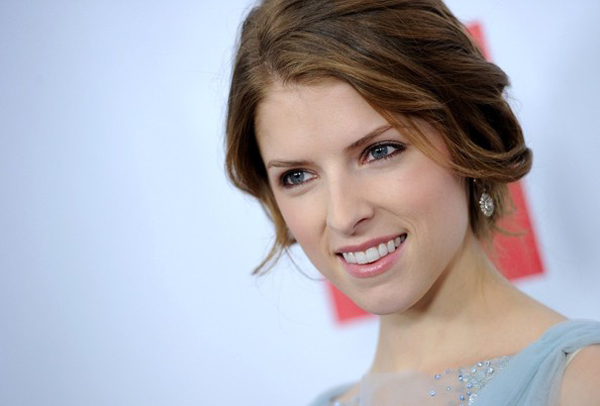 I want to say that I first saw Anna Kendrick when she played Natalie alongside George Clooney in Up In Air, but technically that's not true, as I had seen Twilight a few years before that. However, I hated Twilight so much that I seem to have entirely erased it from my memory, as I have no recollection of her being in it at all.
I must admit that I just assumed she was yet another perfectly-nice-but-not-particularly-interesting young Hollywood actress who can also sing really well. But after someone retweeted her saying how it's such a struggle to not pet service dogs as they can't be distracted, (something which I myself have thought in the past) a quick nose through her Twitter feed confirmed that she's absolutely deadly and I want her to be my friend.
Recently, a saucy jokey tweet of hers about Ryan Gosling took Twitter by storm and resulted in endless articles on entertainment news sites with humourless headlines like: "Anna Kendrick pleasured herself while watching Ryan Gosling's new flick", while the Daily Mail called it a "shock confession".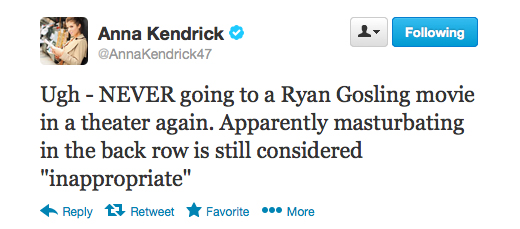 RELAX LADS, SHE WAS JOKING.
Anyway, she's hilarious, I strongly urge anyone who's on Twitter to follow her and here is my list of reasons why I want Anna Kendrick to be my tiny pale friend.
1. She made Obama double over with laughter.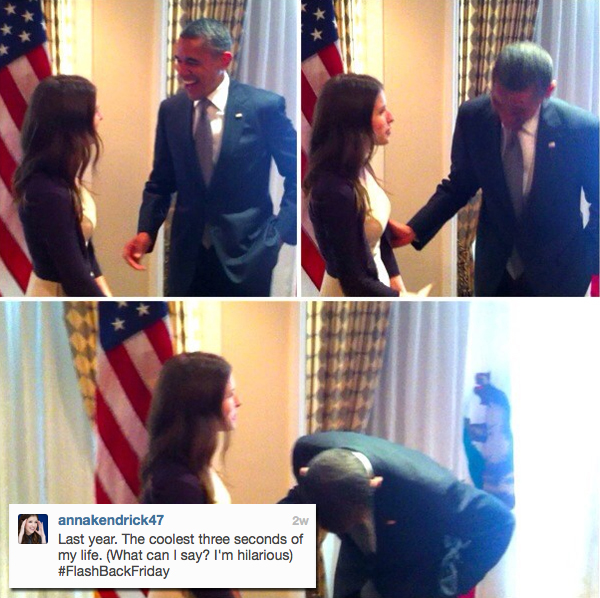 Making a President as cool as Obama laugh that much makes you very cool indeed.
2. She has an excellent party piece.
There's an audition scene in Pitch Perfect (which is actually a really fun, if slightly cheesy and Glee-esque college film) where Anna's character sings along to a little percussion routine with an empty cup. She has said in interviews that she saw a video of a girl doing it online and just spent an afternoon learning it by watching the video over and over. When the makers of Pitch Perfect found out she could do it, it was written into the film. Here she is performing it on David Letterman's show, a little faster and more nervously than in the film, but it's still great.
Advertised
3. She makes Harry Potter jokes.

I love it when famous people are into Harry Potter and funny about it too.
4. She supports marriage equality.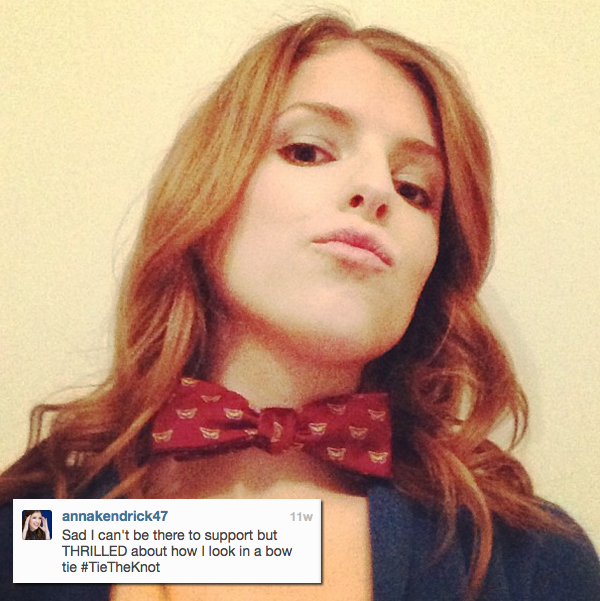 Tie the Knot is an initiative by Jesse Tyler Ferguson (Mitchell from Modern Family) and Justin Mikita, that advocates for marriage equality in America. They seasonally release a collection of bow ties and all the proceeds go to gay rights organisations. Plus, that owl print one she's wearing is TOO FRIGGING CUTE.
5. She drinks Jameson.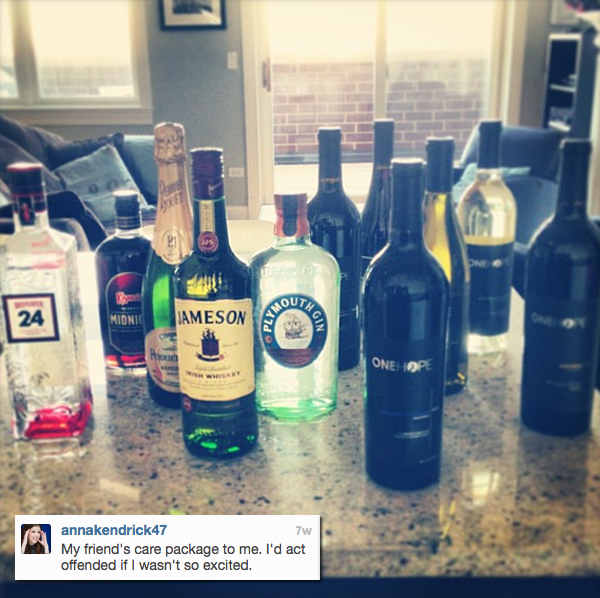 Anna! Let's drink whiskey and watch Harry Potter films! It'll be amazing!
She's so deadly, I actually don't care that she was in Twilight. And in my case, that's really saying something.
Advertised
So, do you think she's brilliant as well? And which celebrity would you most like to be friends with?
Photos from Anna Kendrick's Instagram feed.