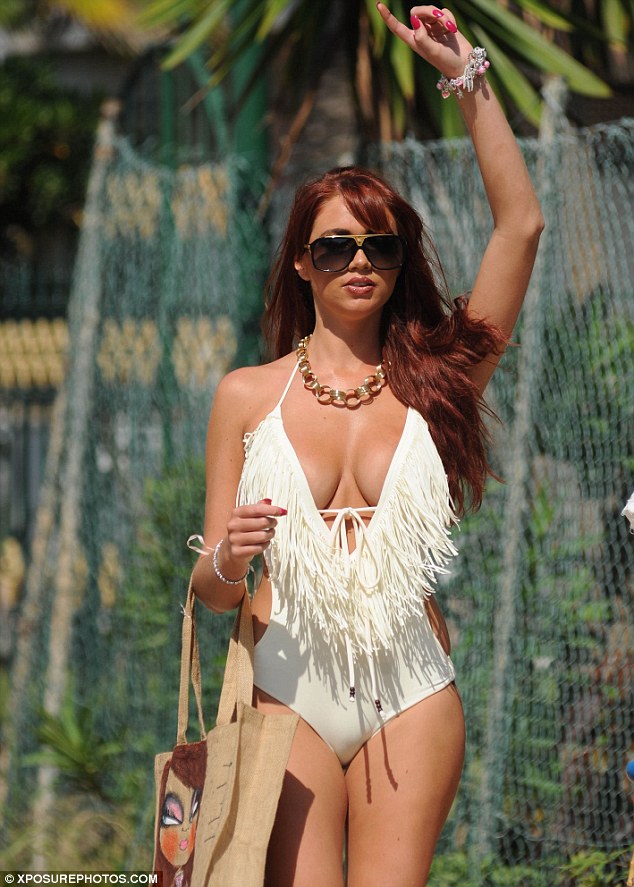 Amy thanked God or whoever thought of No Carbs before Marbs
There's nothing subtle about Amy Childs.  She is the opposite of subtlety.  Let's peruse this picture of her heading to the pool whilst on holiday in Spain a couple of weeks ago.  It must have taken her AGES to get ready.  Hours.   Buckets of fake tan, a full face of makeup, making sure the manicure was perfect, blowdrying the hair, the jewellery, the heels.  Of course the vajazzle was perfect not a doubt about that.
Amy, I'm exhausted just thinking about it.
Amy was the undisputed star of the "reality show" The Only Way Is Essex (TOWIE) which splashed onto screens in an orgy of waxing, tanning, fake hair and all round high maintenance.  Of course it was scripted to bits, but the depiction of orange Essex girls was pretty spot on.  And 22 year old  Amy with her fake boobs became the undisputed queen of the Vajazzle - the Brazilian wax complete with sequins and crystals.
If there's no bling she's not interested.  If there's no spray tan salon nearby she's not going.
Advertised
But I love Amy.  I love her unashamed embracing of everything bling, tacky and uber maintenance.
Jordan and Jodie Marsh hang up your plastic crowns.  There's a new orange princess on the block.