 It's hard to believe that it's the first of September again. I bet that all of us have had that 'back to school'/Glenroe feeling to some degree over the last few days. Whether 'twas a 'thank the LORD I don't have to wear that brown uniform ever again' or a 'yeah, in retrospect those really were the best days of our lives', it might just have crossed your mind as the kids crossed the road with the lollipop bearer. Every year, a new rake of kids start off school for the very first time and with it the turning of a corner and the start of a long journey through school, college and life.
Now, you might have someone in your house starting off on their big academic adventure. Some of us are old hands at it but there are always a few families who are new to the excitement of preparing for the big day. A nice schoolbag has to be bought, a lunchbox is needed as well, and don't forget some pencils and crayons for those first lessons that our new teacher guides us through.
Then as you finally make your way into the big new classroom and sit down, there is the fun of making a new best friend, learning to write our names, painting pictures and playing with jigsaws (or Lego or mala).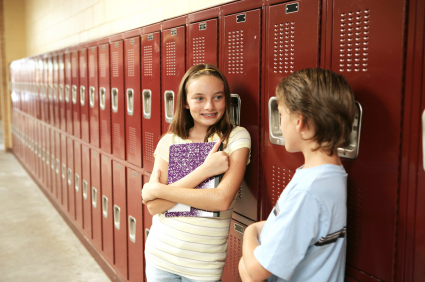 Advertised
Then there are runners for PE, a new coat for those cold wet mornings and an elasticated tie that just slips on over the head (and let's not forget the move from sixth class to secondary school, a trip which brings both it's own excitment, problems and nerves to us).
So Beauts, how was school for you? Did you and your parents wah wah wahh at the school gates or did you slip in through the gate without a fuss? Did you gel in well or did your big brother or sister have to be called in to give you a cuddle or a kick up the arse? Did you like your uniform, did you eat all your lunch, and most importantly, what cartoon character was on your school bag? Was your teacher a Miss Honey or was she more more of a Miss Trunchbull? Did you mitch off PE, did you smoke and snog behind the bicycle sheds or did you do your school proud on the sports field?
Or maybe you had a small person in your house putting on that uniform for the first time and if so, tell us, was there a tear in your eye?