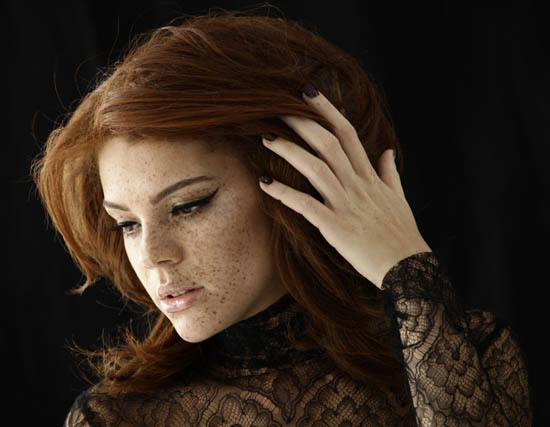 The general consensus seems to be that 20-year-old Jade Thompson is the most popular Top Model winner ever. We all did a roll-eye here when the producers did a nod to the Euro dollar by adding an 'Ireland' to the Next Top Model title this year but once our hopeful, Dubliner Hannah Devine was out of the competition fairly early on, my interest transferred to Jade.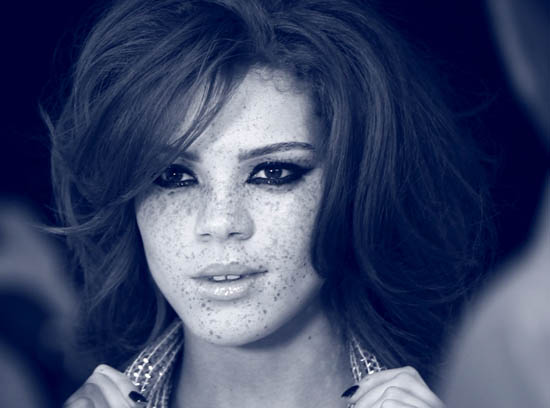 Because quite frankly, apart from being a stunner, she was nice, wasn't she?
And nice isn't a commodity often valued in the world of reality TV, where making eye-bleeding scenes of bitchery to keep us from channel surfing is the name of the game. If you can fit as many cat fights and amateur dramatics in there as possible, then so much the better.  BINTM is better than most in that regard - and even the notoriously pass-remarkable Julien McDonald appeared to have toned it down this year - but it had its moments: Tanya's manic meltdowns and Anastasia's cutting comments being most notable.
But through it all, Jade mostly kept her cool, with the odd wobble. Flying the flag for looking different from the cookie cutter norm and acting smart and copped-on too, we really wanted her to succeed. So when Beaut.ie got the chance to meet Jade a couple of weeks ago when she was in Ireland to promote her Revlon campaign, you better believe we jumped at it. As down-to-earth as we'd hoped, here she is on the competition, the judges and we got her to dish on lots of behinds the scenes goss too: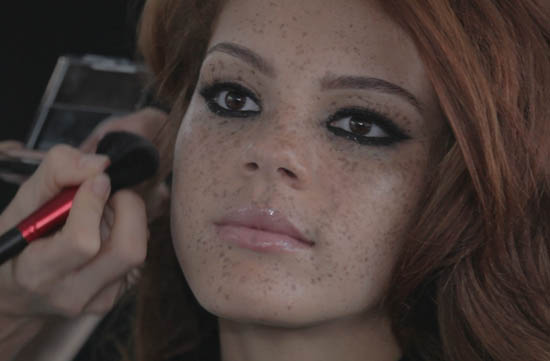 Behind the scenes at the Revlon AW11 campaign shoot, having her makeup touched up
 Jade on ... the competition and keeping schtum
"I've known I was the winner since April and then I had to go home to Stoke and work in a Miss Selfridge on the shop floor until the programme started on the telly. I'd given up my job – I was working in insurance, having previously been in college training to be a nurse, so I just needed something to tide me over. That was hard, but I couldn't tell anyone. I was driving my bosses at Miss Selfridge crazy asking for time off because I'd get a call from the show's producers - "we need you next week to shoot your Revlon campaign" - and they were getting really cross with me!"
Jade on ... the in-house bitching and being nice
"While I was in the house I was oblivious to the bitching, it wasn't until I watched the show on TV and saw what the girls were saying to camera I saw it. I am ambitious but you don't need to be mean to get on. It's not in me and I am flying the flag for being nice and successful. I have a nursing background so that helped me to cope in the house – I did two years of work experience nursing and it taught me a lot."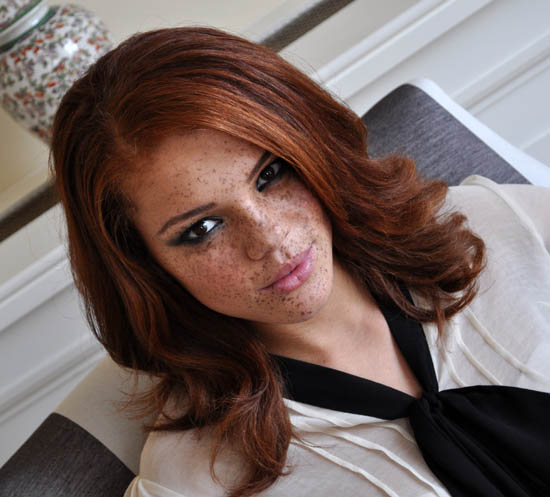 Our shot of Jade taken in Dublin with zero camera or Photoshop trickery - how stunning is this girl?
Advertised
Jade on ... her looks and being confident
"I think they took a chance on me. Someone like Juste is already a model but the programme is show about growing into a model, not about already being one. I'm really glad that I can be a role model to young girls with red hair and freckles. A man came up to me recently to thank me – his little girl had been bullied and after seeing me she was more confident. I just think when it comes to confidence, even if you're not, fake it! Never show a lack of confidence."
Jade on ... the judges
"A lot of the time the judges are stony-faced in eliminations and you just don't know what they're thinking. I really thought Grace didn't like me at all until the end of the competition! Elle is intimidating at first – but not now – after a while you realise that the things she's saying to you are because she cares. I never thought I wanted to quit but there were a lot of times I thought I wouldn't win. Julien told me I was going home in Miami and he made me cry - and I really thought that was it."
Jade on ... a typical day on BINTM
"There's lots of waiting about. We had a lot of early starts and late nights and loads of funny things that never made it to camera. When we were in Miami on one of the shoots, one of my dresses was too big and they had to stuff the back of it with toilet paper to make it fit! There's an elimination every four days and in between there are shoots and challenges. It's tough. I found the ballet task hard because my dress didn't fit me, and the water one was really hard too – I was panicking."
Jade on ... what really happened with Anastasia and Miami
"Anastasia had no chip in her passport and that's what happened. It wasn't that she wasn't allowed into the States, she had the visa, it was just her passport wasn't correct. I'm not sure why they didn't show that but she was in the airport and everything. It just took too long to sort it out for her to come out to Miami."
Jade on ... working with photographer Barry McCall
"I'd never been to Ireland before and loved it. I found working with Barry great – he was really nice and really put my mind at ease. Yvonne Keating was so nice too."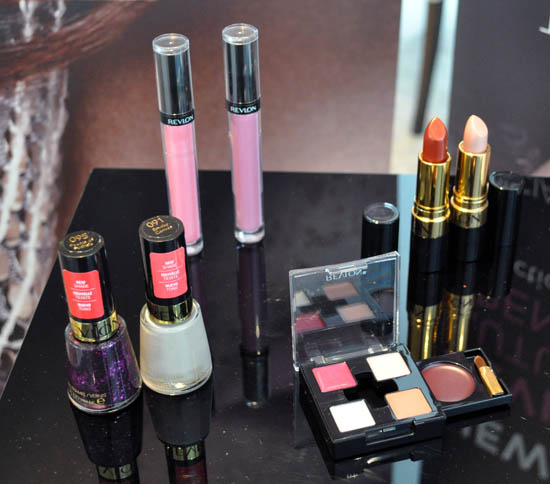 Revlon's AW11 launch, 60s Modern Mixup, of which Jade is the face. She wears the pale pink lipstick and gloss, Facets of Fuchsia polish (we love) and Revlon Photoready Foundation in the campaign images
Jade on ... her beauty secrets
"I learned a lot about makeup during the competition, like less is definitely more! I learned loads from makeup artists like Lee Pycroft, just from watching them work. I really like the Revlon Photoready Foundation because it has some coverage but it looks natural, it's not too much and you can see my freckles. I'm mad about Facets of Fuchsia too.  I tend to keep it simple - I just use Clearasil and E45 cream on my skin and I love doing a Sudomasque - it's when you do a masque from Sudocrem! We were all at it on the house and it's great! I've naturally curly hair so I use a lot of John Frieda FrizzEase and I like TreSemme products too. For perfume, I go for Ghost or Nina Ricci."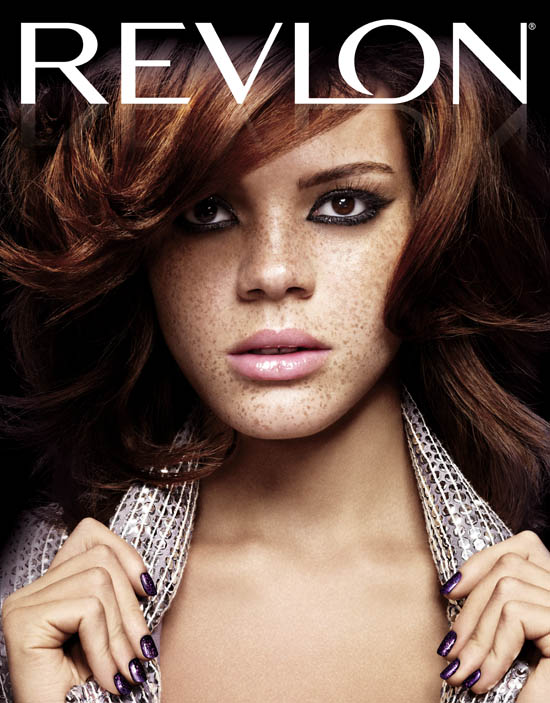 The finished campaign image used for advertising
Jade on ... the future and what she hopes to achieve
"I could one day be a brand, like Elle MacPherson, and that's amazing. Work-wise, I want to explore the UK but I really want to model in America – I think it's my market. My big goal right now is to do what Rosie Huntington Whiteley did and become a Victoria's Secret model. I think that'd be incredible."
Advertised
Jade is the face of Revlon's AW11 line, 60s Modern Mixup, in stores now.