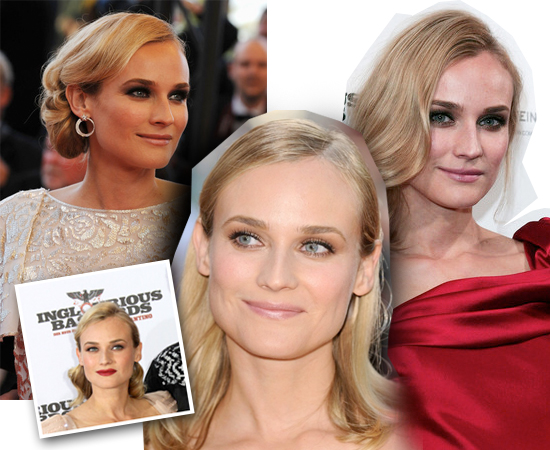 Diane Kruger's been on my FashDar for some time now (and Lynnie's too!): a starlet who's rapidly turning into a fully-fledged A-lister, this gal really knows how to work a directional frock or three. If it's not Chanel it's Valentino or Versace Atelier and she has a knack of picking the hippest gowns from any brand she chooses.
Injecting a personality and daring into her outfits that's all too rare these days, Diane's fashion nous makes it possible for me to forgive her for National Treasure and National Treasure, Book of Secrets.*
It might be the European in her, but she experiments just as much with hair and makeup too, none more so than on her current press juggernaut for Inglourious Basterds.
Advertised
We've seen her do classic glam with a chic chignon, smokey eyes and nude lips; she's rocked it up with loose, beachy waves and those smokey eyes again; she's gone playfully cute with loose hair, understated peepers and frosted lips and she's harked back to the 40s with marcel waves, liner and a graphic red lip. Oh and always, always a bold brow.
Phew. That's a lot of looks for one press jaunt. I'm loving her commitment to changing her look though, and wish more of Hollywood's finest would follow suit.
*Yes, ok. My utterly low-brow disaster movie tastes adored both for their kitsch nonsensical ways. I admit it.