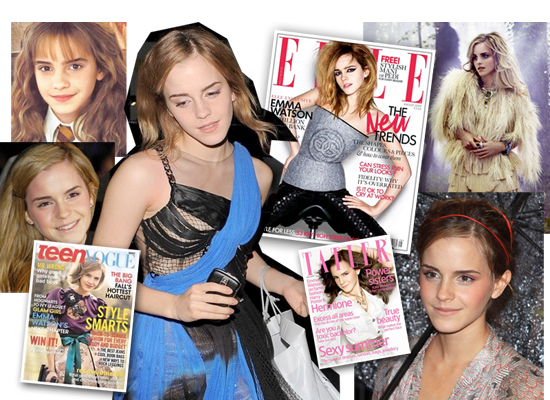 When Emma Watson first came to public notice, it was of course as bookish know-it-all overachiever Hermione Granger in the first installment of the Harry Potter movie franchise, The Philosopher's Stone. (Which was released under the title The Sorcerer's Stone in the US, fact fans. And no, I don't know why either.) That was away way back in 2001 when Watson was just 11 years old - and before her character discovered Sleekeasy's Hair Potion, so it was wildly bushy, completely uncontrollable brown hair a go-go on-screen on the beauty front.
Fast-forward to early 2009, and things are decidedly different. Watson is photographed by Mario Testino for Burberry's AW 2009/2010 ad campaign. The creative director of Burberry, Christopher Bailey, declares her to be "one of the great new British icons". No-one who sees the shots can stop themselves saying "Awww, she looks so grown up!"
Currently, she's gracing the front cover of the UK edition of August 2009's Elle magazine, working an edgy, punky, sexy rock-chick look that's a hundred million miles away from the library at Hogwarts. Even the oddly chalice-shaped Chanel corset can't detract (much) from the surprising fabulousness of the backcombed, tousled-to-within-an-inch-of-its-life bed-head hair and super-thick, black, feline flicked liner.
And she can do impromptu just as well as highly styled:  one of my favourite looks was the eep-it's-raining double red hairband up-do Watson sported at the  latest Harry Potter premiere, coupled with age-appropriate but gorgeous  and glowing make-up. And doesn't she have lovely eyebrows?!
Advertised
Seems Chanel have been sitting up and taking notice, too, because she's rumoured to be the new face of their Coco Mademoiselle fragrance.
I have to admit that, while Emma Watson got on my wick in a big way in the early Harry Potter fillums, I'm well impressed by her Transfiguration to proper grown-up Lovely Girl.
Jolly good, Watson.