 A few weeks ago, while flicking through the channels for something to watch, I landed on Sky Living +1, as America's Next Top Model was on. A new series! And I hadn't heard a single thing about it!
It was actually the second episode of the series (at least I didn't miss the makeover episode – can't beat a bit of shouting "of COURSE they're going to chop all your pretty hair off, have you never SEEN the show before?" at the screen) which meant that it had kicked off the previous week with nary a ripple on my social media. Most peculiar.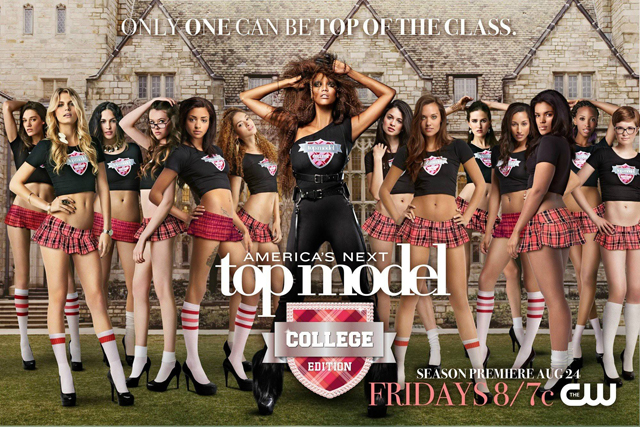 The last few series (I mean cycles, sorry Tyra) of ANTM have seen a revolving door of judges, the downright unforgivable sacking of Noted Fashion Photographer Nigel Barker and the Jays, and a gimmicky theme of some sort, like All Stars or British Invasion.
This time around it's a College Edition, which pretty much just means that the contestants are all students and gives the show a thinly veiled excuse to put them in teeny tiny tartan skirts. (The next cycle is Girls vs Boys, in case you were wondering and it was recently confirmed that Miss J is coming BACK!)
To be perfectly honest, the show isn't what it used to be and Tyra has sort of lost the run of herself (were those Pot Ledom music videos a fever dream or did they really happen?) as it's gotten progressively campy and ridiculous as the years go by. I know all this but nevertheless I still enjoy it.
Advertised
However, while ANTM has been tying itself in glittery knots with all the attempts to keep the show fresh (it's been going since 2003, in fairness), it was announced late last year that Britain & Ireland's Next Top Model has been cancelled. No more Elle McPherson and her shiny pants, no more Tyson Beckford standing around being handsome and no more Danni Minogue not quite being as good as Kylie.
As a result, this leaves us with Naomi Campbell's foray into model competitions. The Face has been commissioned for a second series in the US but there's no word yet on whether the UK version is getting a second outing. It was an enjoyable series but apparently the ratings weren't exactly setting the world on fire, so we'll have to wait and see if we'll be getting another London based diva-strops and photoshoots fix.
It kind of seems like modelling and fashion competitions are going into decline. Project Catwalk and Styled To Rock are no more. And while Project Runway is still plugging away Stateside, it has had to evolve into different versions of itself, much like ANTM, with All Stars seasons and a format revamp.
Advertised
Are you watching the new ANTM cycle or did you give up on Tyra a long time ago? Or did you switch allegiance to The Face? Do you think it's time to pack up the format altogether and just fill all available tv slots with RuPaul's Drag Race?
To the comments!