 Purse-friendly brand Catrice is known for its high-quality, low-priced beauty bits, like the Camouflage Concealer. It's also developing quite the rep for its limited edition collections.
I was thinking about it the other day, how budget brands constantly create exciting, innovative new product. They have to; a brand like Catrice or Essence or Wet n Wild couldn't survive on word-of-mouth classic products like MAC's lipsticks, or Lancome's mascaras alone. Budget brands need to experiment and invent creative collections to prove their worth. I, for one, will pick up a piece from Catrice when I pop into Penneys, but it generally won't be something I'll wave about in the club bathroom; that's what I save my Dior lippy for. The bits I buy will be something that's newly arrived, like a trendy nail colour or a new mascara, to see if it works. If it doesn't, I can throw it away without feeling like I've wasted (too much) money.
This little liner, however, is something I wish Catrice would keep in its permanent collection.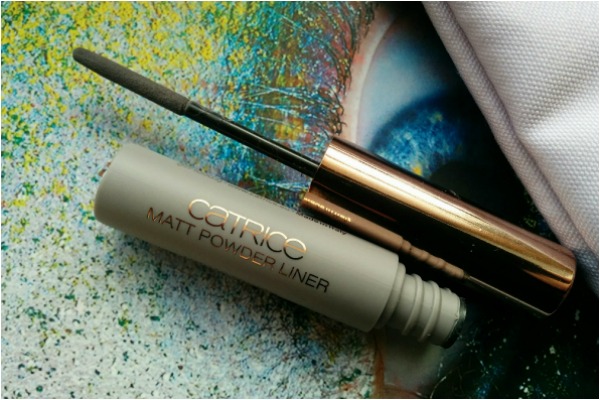 Advertised
The Matte Powder Eyeliner (€4.50) is part of the gorgeous Victorian Poetry collection that was released in November. Sarah Jane wrote about it when it first came out, impressed that Catrice played around with textures in unexpected ways, and saying "This one glides on easily, without any dragging. It can also be blended as an eye shadow (if you like) or worn as is."
I only discovered it yesterday, and I whole-heartedly agree. It does glide on easily, in fact, it glides on so easily you're done in a second, and the shade would indeed be lovely as an eyeshadow. I used it to create a subtle, daytime smoky eye and I loved the effect. The wand is so soft, it's as if it was designed for putting makeup on babies (not that I would...but if you had to...), and the packaging is light and sleek and would look perfectly at home in your going out bag.
I would recommend using an eyeshadow primer before applying, to prolong its wearability, and I would layer it over your regular black liner for the aforementioned, easy smoky eye. But get thee to a Penneys or pharmacy that stocks Catrice quicksmart; the collection leaves stores this month.