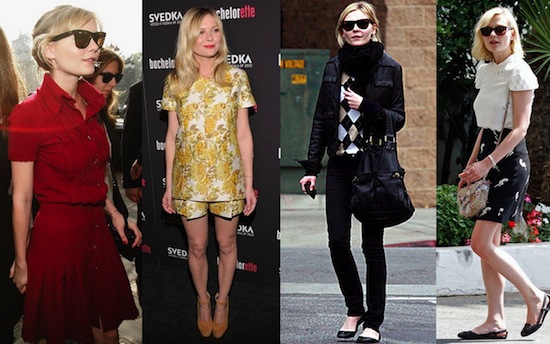 There are a few young starlets who, when it comes to style, always get it right. Top of the list? Alexa Chung, Olivia Palermo and Rachel Bilson - chronicled on this site a few weeks ago. But there are also celebrity females who get it right while somehow going ever-so-slightly under the radar. Naomi Watts, for example, has an irritating habit of looking fairly well put together at all times; Penelope Cruz is another head-to-toe hottie; and Michelle Williams rocks a serious line in cute but not cutesy vintage-influenced clothing.
But today it's all about Kiki, as I like to affectionately call her, the girl who stole our hearts in Interview with a Vampire, The Virgin Suicides and Little Women (that list is not in order of release date, just F yer I).
Let's start with the vital statistics, shall we? Kiki is 5' 6", 30 years old and she was born in New Jersey. (Which always makes me think of Janet Evanovich's Stephanie Plum books, which y'all should read if you haven't already - hilarious!) Like a lot of Hollywood starlets, Dunst is fairly slim - but she also has tits, which is less common. (I say "tits" because I feel as if lads' mags shouldn't get to have a monopoly on the word - saying "my tits" makes me feel sexier than "my boobs" which makes me feel like my ma.) If you're so inclined, you can see Dunst in a bikini here - on, granted, a vaguely dodgy body-based blog.
Kiki's style is very feminine but also pretty low maintenance; during the day, you'll rarely see her out of her trusty flats, and at night-time she favours vintage silhouettes and soft, wavy hairdos (I don't think I've ever seen her in a super-severe up-do). I think she looks best in more tailored items that show off, rather than swamp, her figure. Check out these pics from the spring 2009 campaign for Boy by Band of Outsiders:
Advertised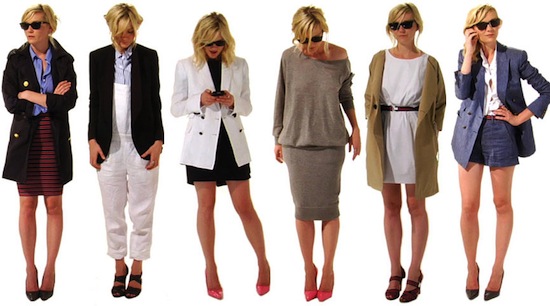 While I quite enjoy Kiki in a pair of boyish dungarees, she looks best when she's mixing more body-con pieces like the striped pencil skirt on the left with looser items like the chambray shirt; similarly, the look on the far right (short-shorts with boyfriend blazer) looks great, while second from the right? Not so much! Fancy stealing Kiki's style? Look no further . . .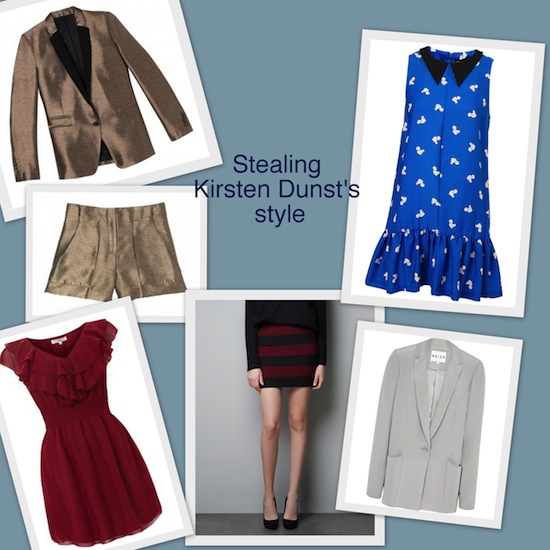 To get Kiki's shorts-suit look, try this set from the Kooples; the jacket is €255.50 and the shorts are €108.50 (and that's on sale . . .) This striped skirt (€39.95 at Zara) is a dead ringer for Kiki's striped pencil skirt, even if the stripes are ever so slightly wider. New Look's blood-red dress (€19.99) is right up Kiki's street, and the ruffles will add a little shape if you're flatter chested than she. For something a little more quirky Kiki, this squirrel-print drop-waist dress is reduced to £20 at Topshop (but only if you're a size 16, soz). Last but not least, this gorgeous boyfriend blazer is reduced from €250 to €125 at Reiss.
Whose style would you like to steal? Anyone you feel is knocking the ball out of the park these days? (And please, don't say Miranda Kerr. Of course Miranda Kerr. Yawn.)
Advertised
Images via Shiny Style, Cristina's Blog, Frugal-Fashionista and Popbee