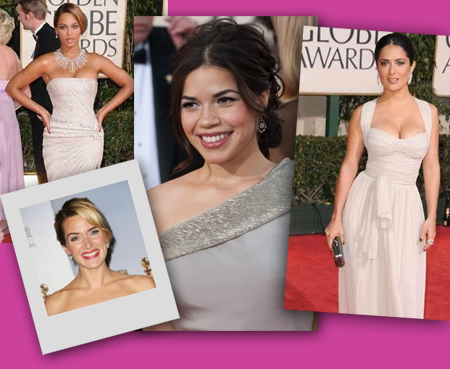 It's red carpet season again! The Golden Globes took place at the weekend and next up it'll be the Oscars. While I don't usually bother to tune in to the ceremonies themselves, I always love having a look at the red carpet pictures to check out what the stars are wearing.
Nude colours seemed to be a celeb favourite this year and I loved America Fererra's taupe-coloured Oscar de la Renta and and Salma Hayek's form-fitting Dior. Slumdog Millionaire's Freido Pinto brought a splash of colour to the proceedings and looked gorgeous, and Susan Sarandon showed the newcomers how it's done in a sexy tuxedo. I have not got a clue what Renée Zellwegger was thinking when she put on the nude strapless bra under the transparent black top of her gown, however...
Makeup-wise, I was glad to see that the overdone fake tans were few and far-between - I loved Amanda Seyfried's luminous complexion and pink lips to lift her dove-grey gown, and Kate Winslet's clean lined eye and strong rosy lip contrasted nicely with her minimalist black gown.
Advertised
Check out the looks here if you haven't already and tell us who you loved and hated!