 Ah here.  AH HERE.
Did anyone else read this report in the Irish Times on Friday?
There was SO MUCH that was hilarious in this totally poker faced piece.  The writing was understated in the extreme and that made the whole thing funnier because the ridiculousness of the situation spoke more than a thousand words.
Let me set the scene for those of you not familiar with Copper Faced Jacks, probably Dublin's most notorious night club. Or sorry, "nite club".  It's got a rep as a cattle mart.  If you're not engaging in a walk of shame after the ten Bacardi and Cokes/pints of Heino you downed the night before in an orgy of sweaty dancing and drunken flirting, then you didn't really have a good night.
Or so they tell me.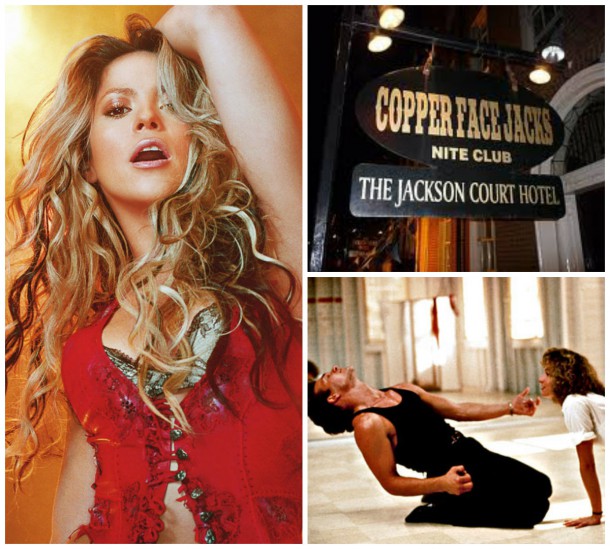 And it seems it wasn't just the IT having trouble keeping a straight face on this one.  The comments from the judge were hilarious.
Advertised
A woman who sued over arm injuries suffered after a man fell on top of her while they were dancing at well-known Dublin nightclub Copper Face Jacks has lost her High Court action for damages.

Ciara O'Connell (33), a sales representative,  was dancing backwards to a Shakira song with a male colleague, Noel Humphries,   when the accident happened at the Harcourt Street venue on August 4th 2006.

Mr Justice Sean Ryan ruled today this was an "unfortunate" accident but he could not find Ms O'Connell's injuries could be attributed to a slippery floor and therefore could not find the nightclub was negligent.

Ms O'Connell and Mr Humphries were engaged in modern dancing "of the kind that takes place in nightclubs and which is not easy to describe in terms that make sense", he said.  The nightclub had described it as "dirty dancing" after the film, he noted.
Possibly the best judge - worthy comment in the universe.  Judge you are right.  There is NO sense to that modern dancing that goes in those places.
While the floor of the nightclub was under the defendant's control, the dancing activity of Ms O'Connell and Mr Humphries was not and it was possible the accident could have happened without a slippery floor or a dangerous site, he said.

Ms O'Connell and Mr Humphries were dancing backwards in close proximity in a situation that carried the risk either of them would miss a step or lose their footing and that could happen relatively easily, he said.  She was moving in a backwards direction with Mr Humphries dancing similarly in unison with her and they were quite close together.
Dancing similarly in unison with her! Oh you can just imagine the pair of eejits.
As they moved backwards like that, Mr Humphries fell back and on top of Ms O'Connell who hit the ground heavily and suffered the injury.  "I do not think that this was in any way reckless or dangerous dancing but it did carry with it the risk of falling," he said.

 
How, how could she have taken this case to court?  HOW could she think that everyone would not burst their hearts laughing and the case be thrown out.  Of course it was bad that she broke her arm - but what a waste of everyone's time, courts, guards, solicitors - the lot.  Ireland's Sue Culture is crazy.
Advertised
The whole thing is morto.