 For whatever reason, black is a colour a lot of women feel comfortable in. Safe in. But sometimes albeit daunting, it is empowering to add just a little pop of colour to your wardrobe.
I say daunting because it can be intimidating to know where to start. But don't worry, we have some easy tips to start to introduce just a little colour into your wardrobe and your life.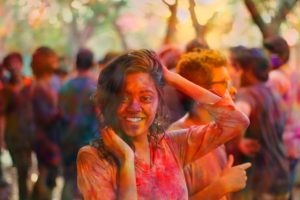 Start small
Introducing colour to your wardrobe doesn't have to be major. It doesn't mean going out and buying a neon dress and binning your favs. Introduce it slowly but surely. If you are set on black, try buying a piece with a pattern on it that is a different colour. Try a scarf or a hair accessory that is a colour.
Statement shoe
A colourful shoe or boot can really spice an all-black outfit up. Try a metallic silver or gold if you don't want to go too wild. Or a neon if you are feeling daring.
Advertised
Statement piece
If you are to add any bold colours to your wardrobe add one statement piece. A coat, a skirt or a dress. Keep everything else simple and this will definitely add a pop of colour to your minimalistic wardrobe.
Makeup
Makeup is a great way to add a splash of colour to your life. It's fun too. Experiment with different colour eyeshadows and lipsticks to see which ones work well.
Nail colour
An easy way to brighten up most looks is by wearing some bright colour nail polish. It may even brighten up your day when it catches your eyes throughout the day.
Accessories
Advertised
As mentioned, accessories are a great way to add some colour to any outfit. Try a coloured scarf, handbag, hairband or jewellery to add that little pop of colour.