 Dunno about you, but I'm seeing milky beige and 1980's blue...can that also be an option? I mean, why does it have to be either "white and gold" or blue and black?" Not seeing either of them.
Anyway, here's what a slew of celebrities think the dress colour is - because that's today's burning question, people.  

Guys. I've stared at this dress for 5 minutes. Like an idiot. All I see is white and gold. And a satin bolero that shouldn't be paired w/ it

— Sarah Hyland (@Sarah_Hyland) February 27, 2015
Hyland then threw the following possibilities into the mix...
I asked my brother. He agreed with me saying gold and white. Now all he sees in blue and black. What is this sorcery!!! I still see g/w

— Sarah Hyland (@Sarah_Hyland) February 27, 2015
Today has been a day of wonder. Llamas and color changing dresses. What is happening in 2015?

— Sarah Hyland (@Sarah_Hyland) February 27, 2015
"@JakeMLarson: I'm pretty sure aliens are invading. Today was just a test on how to distract us dumb humans." Hahaha 🙌

— Sarah Hyland (@Sarah_Hyland) February 27, 2015
Rashida Jones had this theory to offer the human race...
What genius pulled off this elaborate metaphor just to teach us the importance of tolerating other perspectives?#blueandblack #whiteandgold

— Rashida Jones (@iamrashidajones) February 27, 2015
Taylor Swift was a bit more wishy washy regarding her thoughts on the matter, while Anna Kendrick was taking no one elses bullsh*t...
Advertised
I don't understand this odd dress debate and I feel like it's a trick somehow. I'm confused and scared. PS it's OBVIOUSLY BLUE AND BLACK

— Taylor Swift (@taylorswift13) February 27, 2015
If that's not White and Gold the universe is falling apart. Seriously what is happening????

— Anna Kendrick (@AnnaKendrick47) February 27, 2015
The best thing about this 'dress' 'debate' is how it's making people fall apart while simultaneously bringing them together. Observe TV's BJ Novak and Mindy Kaling getting counselling from Oscar winning Julianne Moore.
@mindykaling @bjnovak what's the matter with u guys, it's white and gold.

— Julianne Moore (@_juliannemoore) February 27, 2015
Kim Kardashian obviously kept things simple for her target audience base...
What color is that dress? I see white & gold. Kanye sees black & blue, who is color blind?

— Kim Kardashian West (@KimKardashian) February 27, 2015

 
Miley Cyrus gave her interpretation on things, while also highlighting the depths of her self-obsession and showcasing exactly how much time she has on her hands at the moment.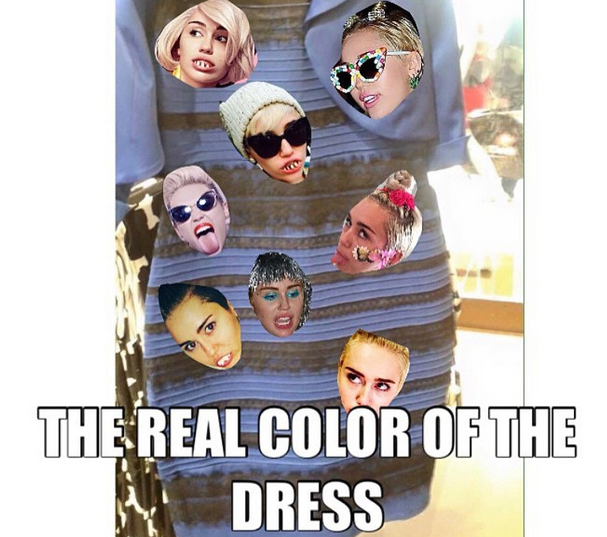 James Franco melted people's heads further by throwing yet another colour into the mix by captioning it "Dress controversy... VIOLET and BLACK! Obvs."
Lastly, Ariana Grande said what most of planet earth is thinking...
Advertised
Soooo... dare we ask... *ducks*