 With just a few sweet shopping days to get yourself together and show your love, it's time to share a few last minute gift ideas for Mother's Day. We had a look last week at some fab beauty and accessory picks but today is all about those last minute favourites that you can pick up in under five minutes. 
At the end of the day you can spend your month's rent on something big and beautiful but from my knowledge of Mums (I have a great one), it's always the little things that I give her that are the ones that matter the most - it's when I put thought and love into it that she appreciates it most.
So let's take a little look at some cute and meaningful last-minute budget-friendly gifts that will no doubt melt many Momma hearts this Sunday.
Some people love a good scented candle and others are not fans. But when it comes to the Beaut Mamas, we reckon no matter how many millions she already has on standby, one more won't hurt. And this delicious White Pomegranate one from the legendary Irish candle company, Max Benjamin, is truly delightful and one she'll cherish for hours to burn..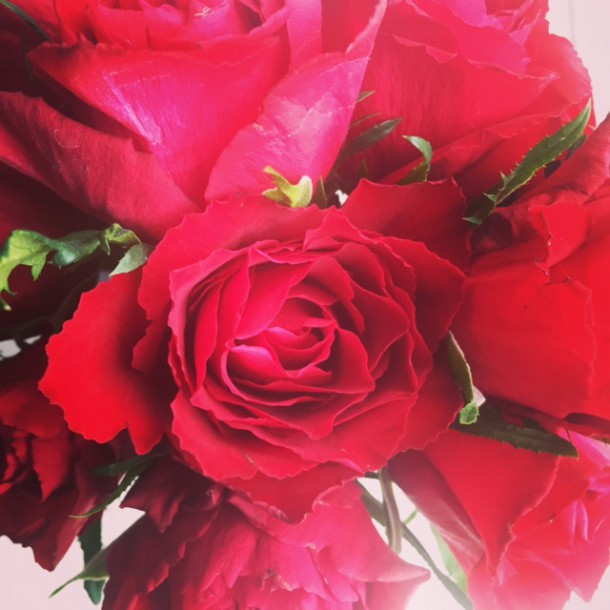 Sometimes if you're not too pushed about spending so much on flowers but want to give some all the same, there's nothing sweeter than heading out to Lidl or Aldi (or the garden for that matter) and picking up a few bunches of pretty roses.
I do it all the time for gifts and it's so easy to jazz it up to make it look like a florist-bought bouquet. Just cut the stems and remove all the leaves, tie a pretty ribbon around them and boom you're in business.
Advertised
As part of the Cath Tate greeting cards collection, this funny book plays home to an endless supply of fun and to-the-point thoughts on being a Mum. Cath gives the low down on what it's really like from the moment you leave the hospital with your bundle of joy to the moment you realise you're beginning to turn into your own Mum through her witty ideas on the topic.
It's hilarious and no doubt will bring a smile to her face and it's also a great gift for someone who is about to become a Mum.
Memories will last forever but photos need to be out and about to be appreciated and cherished. So why not buy a fabulous frame like this one from the Paul Costelleo Living range at Dunnes Stores and pop in your favourite captured memory so she can live and love her favourite child everyday (we suspect there will be lots of brownie points for this one).
Have you picked up a gift for your Mum yet? Are there any other cheap 'n' cheerful suggestions that you'd like to share with us? 
Advertised
Rebecca tweets from @hautesofabulous and you can find her Facebook page here. Find her on snapchat @hautesofabulous.