 We're talking about children's stories here FYI, so get those naughty thoughts out of your head.
While Tom Hardy's TV outing Taboo has been getting a lukewarm reception compared to what was expected, he has had another venture on the small screen of late that's proven very popular indeed.
The Mad Max: Fury Road star has recently read not one but two Bedtime Stories for children's network CBeebies. The first, which aired on New Year's Eve, can be seen below:
Hardy also read a story for Valentine's Day last week (for which his dog makes another adorable appearance). The full video is not available yet but the trailer for it can be seen here:
Are you sitting comfortably?

Then we'll begin. #TomHardy#ValentinesDay#Valentine pic.twitter.com/4c4J3uIwVr

— CBeebies Grown-Ups (@CBeebiesHQ) February 14, 2017
The latter got a particularly, erm, excited reception:
Me- do you want to watch the special bedtime story tonight?
Daughter- why is it special?
Me- umm it's got a dog in it 😳 @CBeebiesHQ

— Meandthebebes (@meandthebebes) February 14, 2017
Don't judge me. *girly giggle* #cbeebies pic.twitter.com/wAwVYbQdrf

— Catherine (@ciderlass) February 14, 2017
Advertised
.@CBeebiesHQ pic.twitter.com/K03EI0HAiT

— alternative notgavin (@notgavin) February 15, 2017
Yes. That would be me watching CBeebies. A 40+ woman with no kids! #TomHardy 😍 pic.twitter.com/PjNQd4LBC0

— K (@YourRedHead69) February 14, 2017
@Dannibubble he could read the microwave cooking instructions to a cottage pie and I'd still be on the floor unable to use my legs....❤️ðŸ'¦

— RetsðŸ'¸ðŸ½ (@beauand_co) February 13, 2017
TOM HARDY KLAXON TOM HARDY KLAXON!!!!! *takes clothes off*

— The Mothership (@yoghurteater) February 14, 2017
Buzzfeed TV editor Scott Bryan has since announced via Twitter that Hardy has recorded five stories altogether for CBeebies, which means we'll get to see him on the telly being his charming self three more times.
Good news for Tom Hardy fans: he recorded five stories for the CBeebies bedtime thing. Two have been shown, so he'll be on three more times.

— Scott Bryan (@scottygb) February 21, 2017
Well in fairness...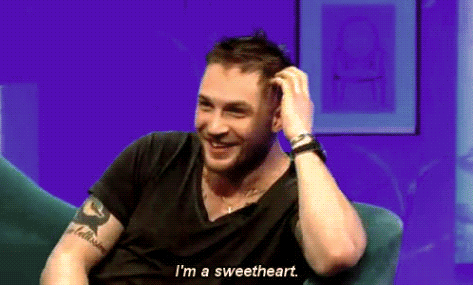 Advertised