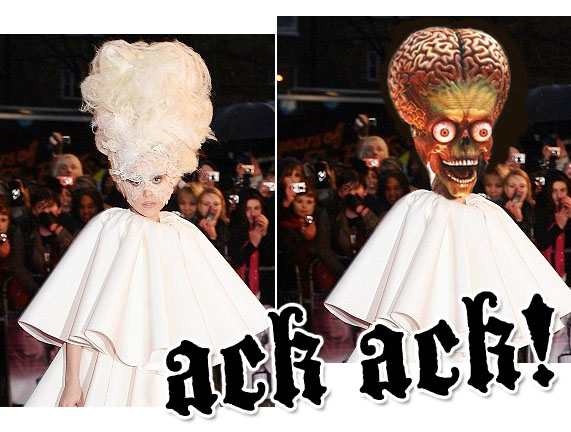 Last Lady GaGa post FOR EVER, swear.
But this was just too good to pass up.
When I saw a pic of GaGa on last night's Brits red carpet I just knew I recognised her look from somewhere.
Some film ... maybe something sci-fi ... possibly Tim Burton ..
Advertised
No, it wouldn't come to me.
UNTIL IT DID.
Hahah! First we had Chanel channeling Gary Oldman's dracula barnet and now Gaga's gone, well, gaga for the big-headed look of the trigger-happy Martians from 1996's Mars Attacks! All she's missing to complete her transformation is an exposed ribcage, a glass space helmet and x-ray gun.
Sure maybe they'll be her next costume choice though, what?