 This is just too weird a coincidence - Mila actually starred in a film called Friends with Benefits (with Justin Timberlake) while Ashton Kutcher starred in a similar themed film, No Strings Attached, opposite Natalie Portman.
Mila Kunis revealed all on The Howard Stern Show, giving more deets on her relationship with hubbie Ashton than ever before.
Mila talked about her first on-screen kiss with Ashton – cute! – on The 70s Show, and discussed how the two kept in contact after the show ended.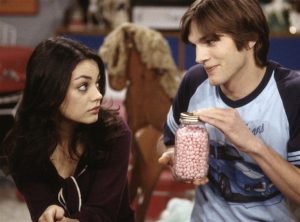 When pried about how their relationship started she said 'I might get in trouble for this…' which can only mean something juicy could follow!
Mila said, 'we shook hands and were like 'let's just have fun'' and that the two ended up 'literally [living] out [their] movies.'
She said they were very open with one another and laughed, 'if we had paid attention to [our] movies, we should know shit like this doesn't work out!'
Advertised
She revealed how Ashton tried to set her up with someone at a party but the two of them ended up spending the night together themselves. It was the first time she'd ever stayed at a guy's house when she was single.
While the two decided it was a mistake and that they both wanted to be single (the end of Ashton's 15-year marriage with Demi Moore was also still raw at this point), they couldn't keep away from one another and became exclusive three months later.
Now the two are married and expecting their second child.
I guess those stories in romantic comedies can come true!

Advertised
Via Soundcloud